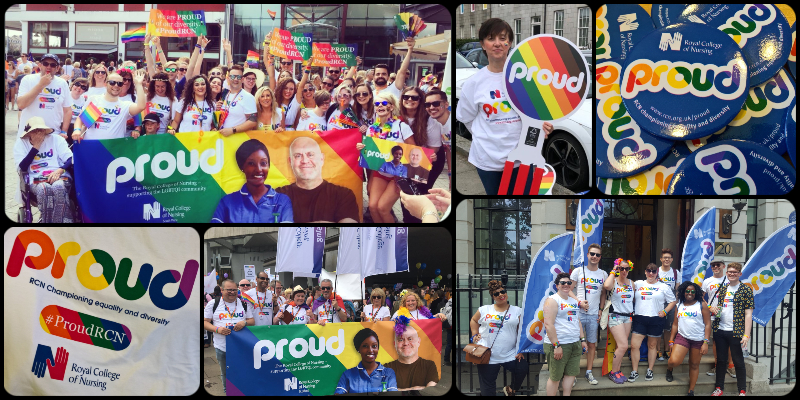 Summer is here and with it a whole series of Pride events across the country. We'd like to invite all of you to show your support for the Lesbian, Gay, Bisexual, Trans and Queer [LGBTQ+] community and get involved with the RCN at Pride events in your region.
Pride isn't just for nurses or nursing staff who identify as LGBTQ+, it's also an opportunity to show the public that we support patients in that community too, as allies. Crucially, it is a key moment to recognise how our identities overlap and can create a shared space for activism and protest for all groups who experience oppression, inequality and discrimination.
As quoted in one of our exhibitions, during the AIDs crisis of the 1980s, patients and their loved ones were relieved to have an LGBTQ+ nurse or ally assigned to them; it made all the difference to the care that they received and their experience during a challenging time.
Arguably the current LGBTQ+ matters that healthcare staff should be aware of are trans patients, and the changing care needs that they may require during transition and beyond. You can find out more in our library
subject guide on LGBT+ health here
, or by having a look at some of our
ebooks on trans health here
.
We need you to help make Pride events across the UK a success. From Belfast to Southampton, from Dundee, to Manchester to Cardiff, the RCN will be attending Pride events, and you are welcome to join us. Please contact your local region (details on
this page
) to find out what events are happening near you and make sure you're signed up to attend. You can also see what's coming up on
this page
which we are always updating.
I'll be taking part at
Pride in London
where booking is essential, so if you haven't already reserved your place, please do so
here
.
This year is an important one for the Pride movement as it has been 50 years since the Stonewall riots, where the parade has its roots.
The Stonewall riots began on 28 June 1969 in New York, USA. At this time it was illegal to be gay, and even women could be arrested for not wearing clothing that was feminine enough. Police arrived to raid the Stonewall Inn in New York (a well-known bar for lesbian, gay, trans people and drag queens), but the patrons inside the bar, tired of poor treatment by the police and not being accepted by society, resisted.
This event was a moment that really sparked the gay rights movement. It was driven by a diverse group of people and generated Stonewall as a rallying point in the fight for LGBTQ+ equality. The diversity of this movement is reflected in our new Proud colours which also include a black and brown stripe to reflect growing intersectionality across equality movements.
The first Pride parade in the UK took place 1 July 1972 in London (the nearest Saturday to the Stonewall riots anniversary). Over the years it has taken on more of a carnival spirit, with lots of music, glitter, and beaming smiles.
Pride matters because it can help others in the LGBTQ+ community feel less alone, or frightened. You're not just marching for you, you're marching for others too. So be proud. Enjoy it. Smile. Keep marching, and others will follow your lead.
Here's to the next 50 years of championing LGBTQ+ rights.
Stay proud,
Janan
(Janan Nuri is Chair of the LGBTQ+ Staff Network at the RCN, and works in the Customer Services team at the RCN Library and Archives)