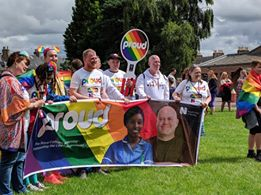 The first ever Proud Ness event was in October last year, described by whatsonhighlands as "a significant landmark". Although I did not attend, I remember the excitement and perhaps also some trepidation.
Some might worry about the 'traditional' reputation of the Highlands, with close communities and a sense of everyone knowing everyone as contrary to the celebration of diversity. However, the day was a great success with an estimated 3000 to 5000 people attending.
Building on the success of last year's event, the second Proud Ness took place in July. It was a glorious summer's day. RCN Highland branch were delighted to attend, to celebrate and support diversity. A small group of us, including local reps, members and our families took part. Aging from six to 60, we were a colourful bunch. This was the first Pride event for me and also for my partner. I have to say it was amazing!
We set out as a group from Crown School in Inverness. Following a short walk we proceeded down Stephens Brae, when we were able to take in the view of Inverness High Street and the overwhelming sight of the number of people involved in the march and also those spectating. My partner and I (and many others) were very emotional – so much love, acceptance and understanding - we were so proud of our community and glad that worries that somehow the Highlands were judgemental and unaccepting were unfounded. It was reported that more than 10000 people attended. Our only complaint about the day was in relation to our sore feet by the time we got to Bught Park!
The RCN Strategic Vision states "At its heart, the RCN seeks to be a world-class champion of equality, inclusion and human rights issues across the depth and breadth of the health and social care sector. We will celebrate our diversity as well as embrace that which unites us as a community and movement of health care professionals" which, to me is a "no brainer". I would, however recommend attending an event such as Proud Ness which helps to reinforce that we all have more in common than difference and how much love and support is amongst our communities.
In 2019, so far RCN Scotland has attended 6 Pride events. We would encourage any members who are interested to speak to their local branch to find out more about getting involved.