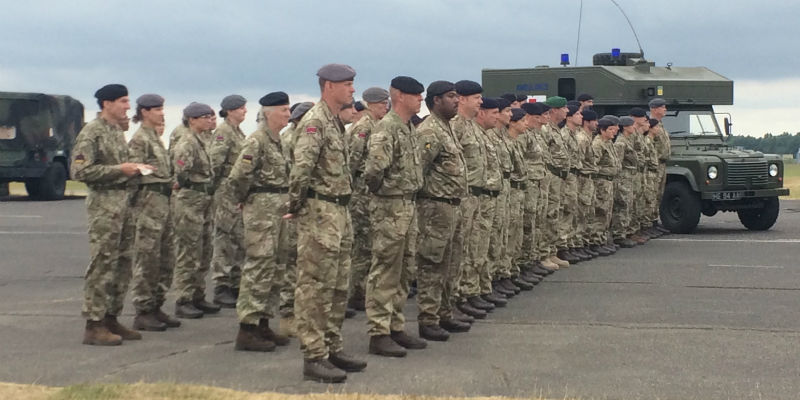 I swapped my week of meetings and management duties for an experience I'll not forget in a hurry. Travelling in the back of a minibus with NHS managers from London, the West Midlands and Yorkshire as well as communications manager Kevin Terry I arrived at the main gates of the Swidwin airbase in northern Poland.
Just inside was a Humvee full of heavily armed US troops closely watching as we were about to be driven onto the base to meet members of the 306 Hospital Support Regiment (HSR), part of the UK's army reserve.
The York based 306 HSR and their colleagues from the 335 Medical Evacuation Regiment (MER) were in Poland to take part in a major NATO exercise. The RCN and NHS employers had been invited to watch them in action. When we got through the checks and arrived at the mobile hospital, we received a fantastic welcome, with the nursing staff incredibly pleased to see the RCN and employers travel out to meet them.
Most of the nurses and doctors from the 306 are NHS employees, who, as part of the Army reserve don uniforms to provide care to service personnel in conflict situations or take part in peace-keeping and humanitarian missions, with many having served during the recent Ebola outbreak in Africa as well as in Afghanistan and Iraq.
Over two days, we met some incredible individuals, all of them specialist nurses from areas including critical care, paediatrics, and orthopaedics, and saw them practise various emergency scenarios with their American counterparts from the 212 Combat Support Hospital and other European colleagues. After the initial surprise of seeing nurses and doctors in khaki and carrying weapons, their immense professionalism, team work, comradery and commitment really stood out. What was also apparent was the valuable learning opportunities available to reserve nurses and their readily transferable skills.
Special thanks to Colonel Helen Singh, commanding officer of the 306 Hospital Support Regiment for making the trip possible and to their media liaison, Major Tony Hinton West, regimental liaison, Major Domini Barrett and everyone in the 306 and 335 regiments.
Take a look at our regional Facebook and Twitter pages to see some of our photos and videos from the trip.