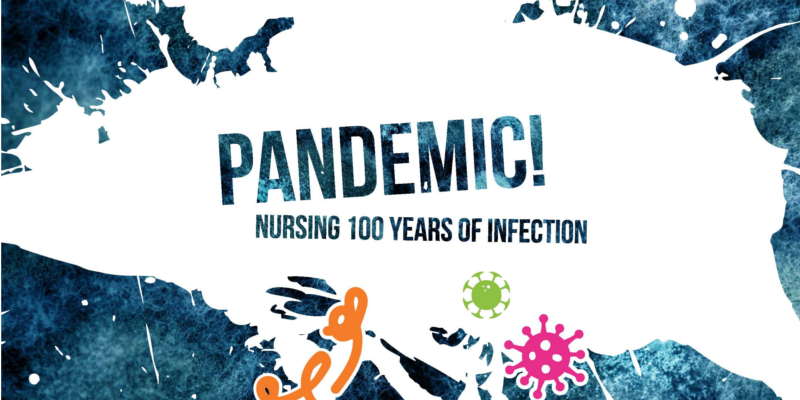 It has been 100 years since the so called "Spanish" flu pandemic killed 50 million people worldwide. This included 228,000 Brits and was ten times the number of lives claimed by the First World War. Our new exhibition at the RCN Library and Heritage Centre explores infection control nursing from the 1918 flu pandemic to present day outbreaks. Our accompanying
series of events
across the UK will delve deeper into nursing diseases past and present.
The RCN History of Nursing Society, Public Health Forum and library team have together faced the challenging task of telling a rich and expansive history in a small space. The exhibition takes you from influenza, fever nursing and TB hospitals, through nursing during the early days of HIV and AIDS, to the more recent years of the Ebola virus threat. It's a snapshot of how nurses have responded to the threat of disease, and how that nursing role has changed.
But as we cast our minds back through this history, what can we see that has not changed? Who is on the front line, time and again, when the symptoms of a new disease arrive on a ward or in a community? Nurses have always been at the forefront of infection control and prevention. A position that, through occupational exposure, does not go without risk.
On display you can see historical objects, photographs and loans from nurses working today which illustrate the story. I'll tell you some of my favourites which you can come and find for yourself.
Two of our
First World War nursing scrapbooks
are on display; one with a pencil drawing of what looks like a scaly dragon with elvish ears – it's actually a "typhoid microbe, much magnified" drawn in the notebook of nurse Jessie Akehurst in 1917. And who remembers Dr Nelson's improved inhaler? Or even has one in their bathroom for toothbrushes? This loan from the British Red Cross Museum and Archive sits alongside a Wright's coal tar vapouriser. Two iconic instruments for the relief of colds, flus and general respiratory complaints.
One of the cases is dedicated to nursing HIV/AIDS. A pandemic once so unknown and deadly, exacerbated by fear and stigma. Accurate advice on how the virus spreads and raising awareness was key to the nursing role. Madonna's Like a Prayer cassette tape (Can you name the date?) has an insert with 'The Facts about AIDS' reminding how widespread the campaign to end stigma was. Also on display is a selection of condoms taken from a safe sex education kit used in the mid-1980s as well as some 80s and 90s RCN teaching materials for health care staff (which some visitors may well recognise).
This brings us up to present day nursing, where the exhibition showcases the fabulous work of artist Mary Beth Heffernan, who created an art intervention to humanize the alienating appearance of the Ebola "hazmat" suits. You can see some of the portrait stickers she made for registered nurses to wear on their suits, as they cared for Ebola struck communities in Liberia.
And what of treatments? How have they changed? Getting a flu jab is now common place for many of us, but ineffective vaccines for influenza were being produced since the 1800s. Kindly loaned by the Royal Pharmaceutical Society, we have a bottle of Influenza vaccine manufactured by the Royal Army Medical College between 1918 and 1920. Just one example of an attempt at a cure long before flu and its many mutating strains were understood.
I'll leave you with a quote from the Nursing Times, March 1919. Guidance for nursing influenza: "Hands – Carry personal soap, nail brush, orangewood stick, paper towels and all-over kitchen apron. Roll sleeves to elbows. If there is any danger of attendant's upper arm coming in contact with the patient or the bedding, cover with newspapers or tissue paper (paper cuff fashion). Use plenty of soap, scrub hard, several times. Have a tube of cold cream or Vaseline, rub a little into hands after each washing."
Whilst hand washing methods have changed, this practice continues to be one of the most effective ways to prevent the spread of disease. And so on that note, we trust our exhibition visitors will indeed all wash their hands before entering and help us beat the bugs.
(Oh, and did you know the date? Like a Prayer was released in 1989.)
Pandemic! Nursing 100 years of infection is on display at the RCN Library and Heritage Centre until 21 September 2018. You can see pictures from our launch event
on Twitter
, with speakers including Chief Medical Officer Dame Sally Davies.
Our exhibition then tours to Scotland, where it will launch at RCN Scotland, Edinburgh late 2018. Register now for
events across the UK
.