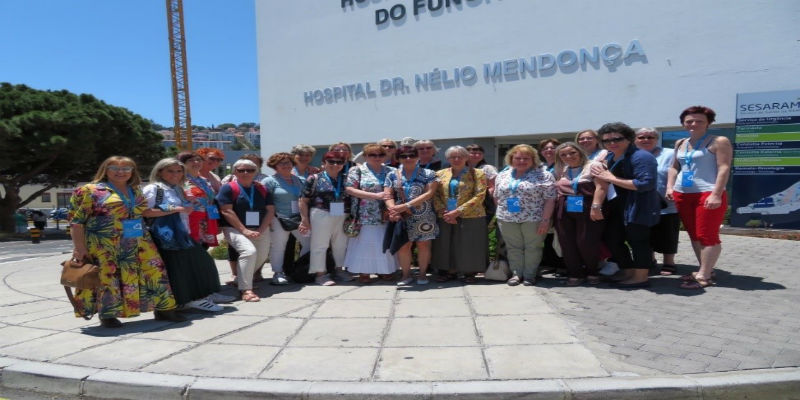 The 33rd PNAE meeting in Madeira

A political moment
The implications of UK nurses leaving the European family due to Brexit were a hot discussion topic with European nurses at the 33rd PNAE meeting but assurances were given by PNAE members that the UK would still be part of PNAE through current RCN representation.

Visit to Dr Nélio Mendonca Hospital
The Madeiran nursing hosts arranged a visit to the Dr Nélio Mendonca Hospital, Funchal, Madeira and PNAE members were invited to see professional and service presentations regarding Children and Young People's care.

PNAE members heard from the staff in the wards, emergency department and neonatal service about the training, education and qualifications currently required by nurses to safely deliver acute, high dependency, complex paediatric and neonatal care to a universal, high quality standard throughout Europe.
Staff felt that care may be enhanced if there was a formal process of shared record keeping between nurses and families.

The staff in the Child Development Centre were very interested to hear about designated Sleep clinics for children and about the Distraction therapies used in the UK.
The benefits to the children and their families that Sleep clinics make to quality of family life and potential educational achievement for the child were discussed with the help of Sofia's translation from Portuguese to English.
The lack of quality sleep for children and families is known to have a detrimental effect on health and wellbeing and UK Child Development staff are starting to provide dedicated time and focus in Sleep clinics to address in depth this important health and social care issue.

PNAE members also explained to the Child Development staff how Distraction therapy helps make CYP experiences of health and therapeutic interventions more tolerable and less frightening. Advice was also given about suitable, age appropriate distraction materials, equipment and potential suppliers.
A link was forged by PNAE with staff in the UK who are experienced in the care of children with additional and complex health needs and who can support colleagues in Madeira in establishing Sleep clinics and Distraction therapy as routine practice in the Child Development Centre.

It was remarkable to note throughout the visit that the professional issues that arise in Children and Young People's (CYP) nursing in the UK are experienced in varying degrees throughout Europe.
Examples of this are the increasing complexity of the management of children's conditions and the education, knowledge, skills and experience required by nursing staff to meet the children and families' changing needs.

It was acknowledged by all that the exchange of ideas and mutual thinking helps provide solutions to the current issues that European nurses are experiencing.

Formal recognition of an outstanding contribution to PNAE
PNAE formally recognised the outstanding, valuable contribution from Fiona Smith, Professional Lead for Children and Young People's Nursing in enhancing CYP care across Europe
Fiona was thanked by all for being instrumental in improving CYP care and for improving nursing standards across Europe.
Future PNAE activity
The 34th PNAE meeting is on the 17th & 18th October 2019 in Zadar, Croatia and the 35th PNAE meeting, combined with the 5th PNAE Congress will be held in Estonia on the 5th and 6th June 2020.
PNAE members are scoping RCN members for the Organising and Scientific Committees required for the 5th PNAE Congress.
Want to know about PNAE?
Visit PNAE on the RCN Children and Young People's website on:
https://www.rcn.org.uk/get-involved/forums/children-and-young-people-professional-issues-forum
https://www.rcn.org.uk/get-involved/forums/children-and-young-people-professional-issues-forum/paediatric-nursing-associations-of-europe