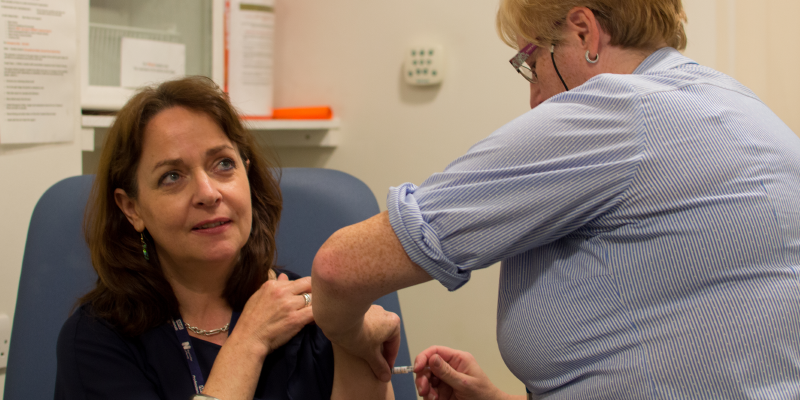 Due to the fact they are likely to be caring for people suffering from the flu, health care staff are at a much higher risk infection than the general population; even in a mild season Public Health England (PHE) estimates one in four frontline staff may become infected.
It is therefore critically important for nursing staff to get vaccinated. For RCN members on the frontline, it's about more than protecting yourself, it's about protecting your patients too.
Last year, 63% of frontline health care workers in England received the vaccine, up from 50% the previous year. While this is a significant improvement, it means there are still too many staff who are not protecting themselves and their patients.
People die from flu every year. Even those who were previously healthy can develop severe complications, including bronchitis, secondary bacterial pneumonia, meningitis and encephalitis; the risk is even higher in those who have other illnesses, the elderly and pregnant women. You can also transmit the virus to others without being particularly unwell or symptomatic yourself.
Get vaccinated annually
The vaccine changes every year to ensure it is as suitable as possible for the type of flu viruses most likely to be circulating, so it's essential to get vaccinated annually.
It won't protect against all strains of flu, but depending on the season and the viruses concerned the vaccine normally provides protection in 50-70% of cases, and could be the difference between life and death.
The vaccine offered to adults in the UK can't give you flu as it does not contain any live viruses, but it can make your arm feel a bit sore and sometimes cause a slight temperature. Other reactions are very rare.
Prevention
Having the vaccination is a simple way to avoid or reduce the effects of catching flu. You can also minimise the risk of infection by eating and drinking healthily and doing regular physical activity. Other methods of infection prevention include good hand hygiene, sneezing into handkerchiefs or tissues and staying at home if you're unwell.
It's important to get vaccinated as soon as possible, before the flu season starts, and it normally takes about two weeks to develop immunity following vaccination. Contact your occupational health department or line manager to find out how you can get vaccinated.
This autumn, prepare for the winter ahead. Protect yourself and protect your patients – get your flu jab.