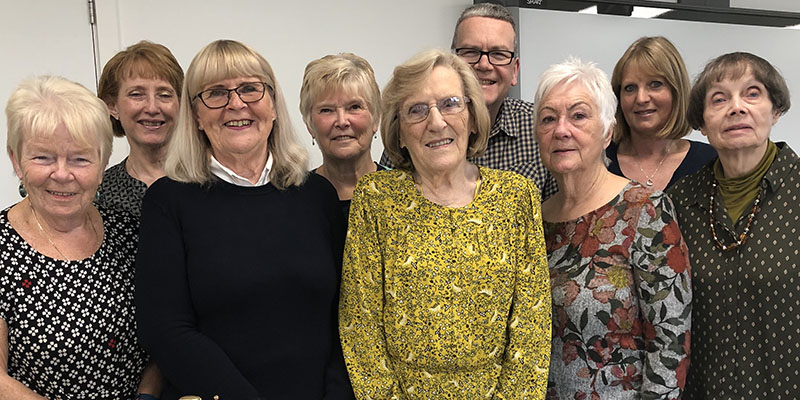 We formed the group while I was on RCN Council. Our Regional Director Glenn Turp discussed the idea and decided it would be a good thing to do. Many of us are former RCN activists who still have a lot to give; it's been a lifelong thing for all of us – we've just carried on!
About ten people came to our first meeting. We talked about what we wanted from the group and we all agreed that we didn't want it to be a tea and sympathy group. We wanted to keep up with the trends of nursing. We all have other interests outside the group – some are trust governors, others are on different groups such as patient participation groups or the National Pensioners' Convention, so we bring those links to the group and get the RCN word out to them in turn. We're like another arm of the College in a way; that two-way flow of information is absolutely essential. We are really lucky to have the support of our regional director and the regional office.
One of our highlights over the years was our active involvement in the pay campaign. A lot of the members went out and spoke to the public, handing out postcards and collecting petition signatures. We have the time and we're always happy to help. In the past we've helped out with student recruitment at universities. They're busy days and with staffing levels as they are we can't always count on our RCN activists to be able to come. Anything that we can help with we will. We enjoy getting out there and speaking to young ones starting their careers and they love it – they always want to know what it was like when we started, which in my case was 1966.

At our most recent meeting we discussed the Staffing for Safe and Effective Care campaign - how we could contribute and help get the word out about it. From the branch meetings I attend it sounds like it's gaining momentum. We'll do everything we can to help spread the word about the petition.
We also talked about TV licenses, state pensions, social care, and the huge potential of social media. We always have a local issues agenda item, so we go around the table and find out what's happening everywhere. If anything crops up in the group I can let the region know something is bubbling away. It's useful because something can happen in one area and you can bet your boots it's going to happen in another area.

We are often involved in Congress because with staffing levels being as they are, sometimes the branch members can't get time off to go. And we've been involved in the RCN Retired Nurses' conference this year and last – I ran a workshop on how to start a group like this.

Just because we're retired it doesn't mean that we don't have a lot to offer. We still keep our finger on the pulse of what's going on in nursing. It costs a lot of money for the college to train the activists then if we can give something back then that's what the group's about really. We have the time, you see, that others don't.