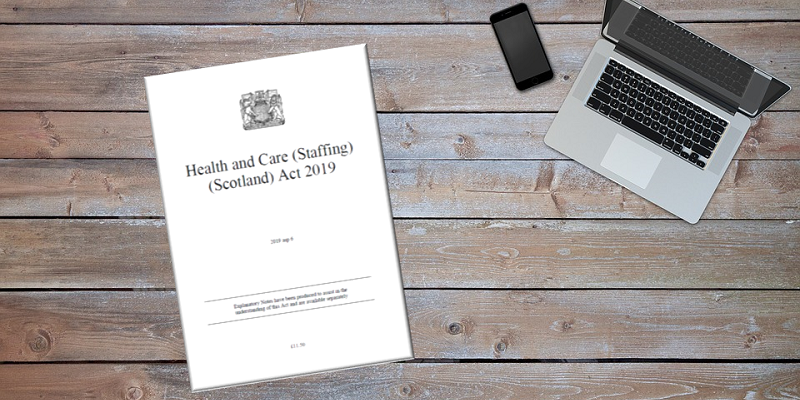 Research shows there is a direct link between staff having the time to care and positive patient outcomes – which is why this legislation is so important. And you, our members, have told us time and again about the negative impact that poor staffing levels are having on your work, your patients and your wellbeing. I see this myself on a daily basis.
This weekend (6 June) marks two years since the Act gained Royal Assent and we are still waiting for it to come into force. Yet the reasons for passing legislation have been magnified by the COVID-19 crisis which has equally highlighted the unique value of nursing as a safety critical profession.
Any vacant post, in any setting, is likely to threaten the quality of care patients receive and compromise safety. Over 4,400 NHS Scotland nursing and midwifery posts are vacant and 40% of care home services for older people report nursing vacancies.
Addressing these staffing shortages is vital for the retention of experienced nursing staff. In Scotland 38% of members told us they are thinking of leaving nursing and when members were asked what would make them feel more valued, three in four of you said "improved pay" while half identified better staffing levels.
As focus turns to the recovery of Scotland's NHS, we are calling on the Scottish government to do more to value the safety critical role of our profession. Fair pay, safe staffing levels and staff wellbeing must be the building blocks for the Scottish Government's health recovery plan.
The way in which health and care services have coped this past year is in large part down to the exceptional efforts of you and your colleagues working across the whole multidisciplinary team. You cannot simply be expected to keep working under this level of pressure, putting in additional (often unpaid) hours and working all the extra shifts you can manage. Sustainable solutions to workforce shortages are needed to ensure that all health and care services have the right staff, with the right skills, in the right place and the Health and Care (Staffing) (Scotland) Act is a vital part of achieving this.
This is why RCN Scotland is calling on the new Scottish government to make implementation of the Act a priority as it sets out the NHS recovery plan and plans for reforming adult social care
Read more about our work on the implementation of the Act on our
safe staffing page
.
You can also find out about the RCN's new
Nursing Workforce Standards
which are closely aligned to the Act and have been created to explicitly set out what must happen within workplaces to ensure the delivery of safe and effective patient care.