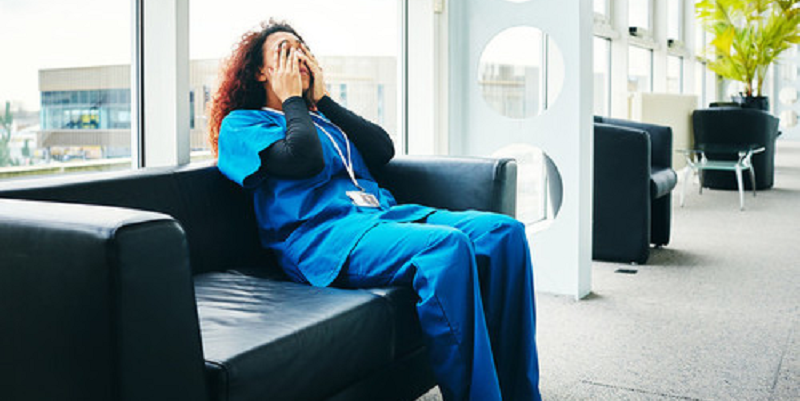 This is especially true ahead of the Holyrood election, as political parties outline their plans and commitments to voters.
The pandemic has had a severe impact on service provision, including through cancelled elective treatments and disruption to diagnostic services and screening programmes. RCN Scotland members care deeply about the impact that delays to treatments and services are having on patients. Scotland needs a sustainable plan to address these backlogs and carry out the necessary restoration work, as well as to deliver care to individuals with long term clinical and rehabilitation needs as a result of the virus.
But we are also exhausted and worn down after the challenges of the last year. The pandemic has greatly increased the level of pressure on a nursing workforce already at risk of stress and burnout. Over 50% of respondents to a 2020 RCN survey said they were worried about their mental health and 38% said they are considering leaving the profession.
It is time to make the wellbeing of nursing staff a priority; staff simply cannot continue to operate under such high levels of pressure. A long-term plan for remobilisation and recovery must have patient need at the centre but it must also prioritise rest and support for staff to help them cope with the burnout, stress and trauma from the coronavirus pandemic. This is vital for retaining existing nursing staff within the profession as well as attracting more people into nursing.
Recovery from this pandemic is going to take a long time; there is no quick fix. Remobilisation and recovery planning must be realistic and sustainable, and must tackle head on the fundamental issues of an under-resourced and undervalued nursing workforce. Workforce shortages were having a significant impact before the pandemic and so plans to increase NHS activity going forward must include action to achieve the required staffing levels, and crucially skill mix, to deliver safe and effective care.
The Health and Care (Staffing) (Scotland) Act is the first legislation in the UK to set out requirements for safe staffing across both health and care services. While the Act was passed almost two years ago, implementation was paused due to the pandemic and RCN Scotland is now calling for the Act to be implemented by the end of 2021. Safe and effective staffing is crucial for remobilising the NHS safely and ensuring that Scotland's care homes can safely deliver care to residents with increasingly complex health needs.
Moving forward after the election, there is an opportunity to tackle these challenges and do things differently. Patient treatment and care should not be driven by financial or political targets. The focus in the short to medium term needs to move away from arbitrary targets and be driven by patient need and the ability to safely staff services while supporting the wellbeing of health and care staff.
Read more about RCN Scotland's Protect the Future of Nursing election campaign at
rcn.org.uk/protect