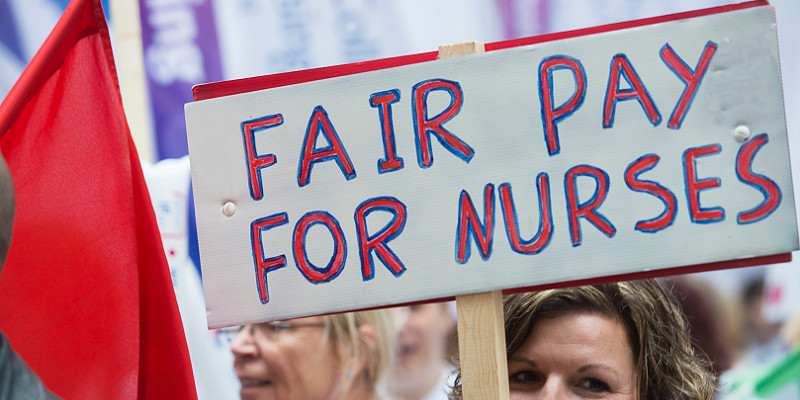 Right now, with diminishing nursing numbers in post and nursing staff exhausted and demoralised by their efforts to date during the pandemic, our Fair Pay For Nursing campaign feels as vital as any campaign we've ever mounted. We have reached a crucial point.
In Scotland RCN members previously rejected the Scottish government's offer to all NHS Agenda for Change staff for 2021/22 in a consultative ballot in May and following the imposition of the pay award, we lodged a formal trade dispute with Scottish government and NHS employers in June. I've written to the Cabinet Secretary for Health and Social Care, a number of times now and have been clear that action is required. My board colleagues and I have also had one meeting with the Cabinet Secretary where we made a strong case for staffing for safe and effective care and a fair pay rise and he assured us of a further meeting following his deliberations.
From today RCN members in England and Wales are being consulted on the UK government's 3% pay award to NHS staff announced last month. Our members in Northern Ireland are still waiting and will be consulted once the detail of the pay award there has been confirmed.
As nurses and RCN members, wherever we are in the UK, it is important that we show our collective strength publicly to advocate for the change needed to secure safe staffing, effective care, and fair pay. The role of nursing needs to be valued.
That's why the RCN has launched a
Summer of Action
- a series of member events taking place across the UK. You can find out what is happening in Scotland on the Summer of Action interactive map – join us at these events to get your voice heard and please let the team know if you are planning anything locally by emailing
paycampaignscotland@rcn.org.uk
.
The RCN has also launched a
campaigns app
to give easy access to campaign content, actions and the latest news related to the RCN's campaigning priorities. It is also a really easy way to check the information the RCN hold on you is accurate and up-to-date. The app is accessible through mobile, tablet and desktop devices. New features and content will be added throughout the year. Visit
campaigns.rcn.org.uk
for more information.
I'd urge RCN members to download the app to stay plugged into the campaign and to join us in our Summer of Action - when members come together, we can achieve real change, both for the profession and for those that we care for.
We'd also recommend reading