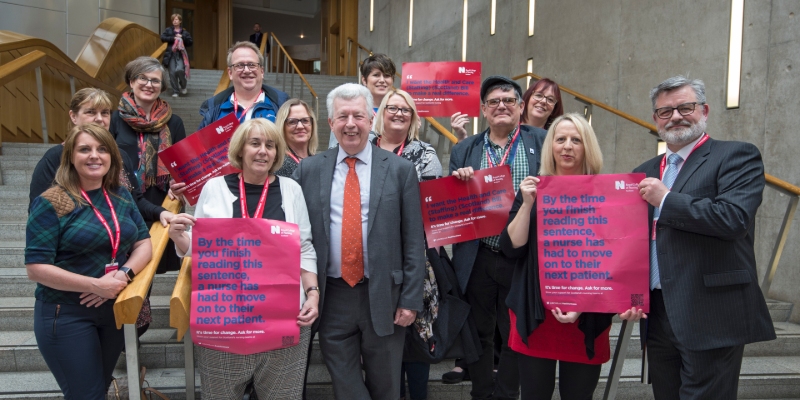 Today (Saturday 6 June) marks one year since the Health and Care (Staffing) (Scotland) Act received Royal Assent. The final Act was almost three years in the making and was the result of a determined campaign by the RCN.

While we didn't get everything we campaigned for, it contains many important provisions. It's the first legislation in the UK to set out requirements for safe staffing across both health and care services and most clinical professions. It places a duty on NHS and social care providers to make sure that, at all times, there are suitably qualified and competent staff working in the right numbers. The Act also requires NHS boards to seek clinical advice when making staffing decisions and to establish a clear process for concerns about unsafe staffing levels to be reported and escalated.

Although the legislation has passed it has not yet been implemented. Before the pandemic struck, work was underway to develop government guidance and organisations were preparing for change. The RCN was working hard to influence how the Act will impact on the day-to-day running of health and care services.

Understandably this work was paused as staff across Scotland's health and care services threw everything into responding to the COVID-19 emergency. But we want to mark this anniversary by reflecting on the Act's importance as well as some important lessons highlighted by the pandemic.

As wider NHS services prepare to resume, plans and service models are needed for the short, medium and long term and the principles of safe staffing must be incorporated into these. The reaction of nursing staff to the crisis has demonstrated in the clearest way possible how essential the nursing role is. There can be no doubt now about the importance of, and value in, investment in education, nursing posts and nurse leadership across health and social care.

Care homes have been at the centre of the crisis, despite the commitment of staff to try to keep residents as safe as possible. I believe the problems care homes have faced are symptoms of how the sector, and the people that live and work in it, have been undervalued for too long. One pre-existing challenge that has been brought to the fore recently, is the recruitment crisis facing the sector and the need for more registered nurses to deliver care to residents with increasingly complex health needs.

Importantly, the Act established parity of principle for safe staffing across health and social care. But while it contains many important provisions for the care sector, they don't go nearly as far as those for NHS settings. For example, our campaign for a requirement that care providers seek appropriate clinical advice from registered nursing professionals on care home staffing was not successful. It has taken this crisis for there to be a proper recognition of the increasing clinical complexity within care homes and a new oversight role has been given to the NHS directors of nursing.

The journey from passing the Act to it making a difference to staff and patients across Scotland is longer than we anticipated. But this pandemic has confirmed that when our healthcare professionals are empowered and their judgement respected, they will step up in the most difficult circumstances. We are confident of building a better future for nursing which truly values the profession and ensures it is an attractive career across all settings. Achieving safe staffing levels will be a key part of this.