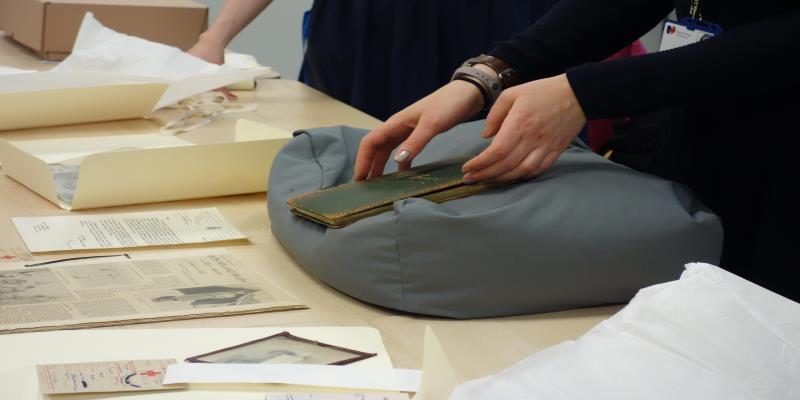 I'm an RGN with a lifelong interest in history and recently volunteered to take part in the RCN's project to digitise, transcribe and research scrapbooks belonging to 10 nurses who served in the First World War. Having first attended an induction day at Cavendish Square, I found myself in the like-minded company of a group of nurses with a shared enthusiasm for learning more about these nurses and their soldier patients, and for helping to make this information available and accessible to others.
As part of our preparation for undertaking this work, a number of us were fortunate enough to be able to spend a couple of highly enjoyable days visiting several museums and archives in Edinburgh. On day 1 we were warmly welcomed (as we were everywhere) by the staff at RCN Edinburgh, where the College's main nursing archive is stored, and learnt more about what materials the collection includes and how these are cared for - as well as having the chance to look at some of these, which was thrilling. The day ended with a meal shared with some of my fellow volunteers: great food and wonderful company.
Day 2 started (after a hearty breakfast - more food, same enjoyable company!) with a visit to the Lothian Health Services Archive. This is housed on the 6th floor of the University of Edinburgh Main Library, a vast, and (to me) unprepossessing 1960s building which doesn't really hint at the treasures within. We met Louise Williams, who gave an excellent introductory talk. The archive contains administrative and clinical records, objects, and images, of local and national importance - stretching back to the late 16th century - from the Edinburgh and Lothian region's NHS hospitals and organisations, including the Scottish National Blood Transfusion Service, and a world renowned collection of material about HIV/AIDS. These are housed alongside the University's Special Collections.
Then - great excitement (like kids in a sweetie shop!) - we were taken to the locked archive stores. We were shown into The Treasures Room - Adam Smith's library books lining one wall, what's thought to be the second oldest illuminated manuscript (it was so beautiful) in the world in the room next door- and introduced to a range of different items, which we were then able to examine more closely. Impossible to describe them all here, but I was particularly taken with a box of WW1 era records of an intake of students from the teacher training college, annotated with the details of each young man's regiment as, gradually, they all left their studies to fight in the war. Most poignant of all, some annotations included the words "killed in action" or "missing, presumed killed". There were also some wonderful photographs of patients and nurses at the local war hospitals, and of Dr Elsie Inglis, founder of the Scottish Women's Hospital Service - also available as postcards, which we eagerly collected as souvenirs of what was a brilliant experience. It was all so interesting and the staff so knowledgeable and enthusiastic, that on leaving several of us expressed the view that we'd like to retrain as archivists! And this before we'd even been to the War Poets Museum, Surgeon's Hall, Museum of Edinburgh WW1 clothing exhibit…
Sincere thanks must go to Molly Fennelly, RCN Graduate Trainee (Heritage) for organising such a great two days, and to all the museum and archive staff who shared their passion for all things historical with us novice volunteers.