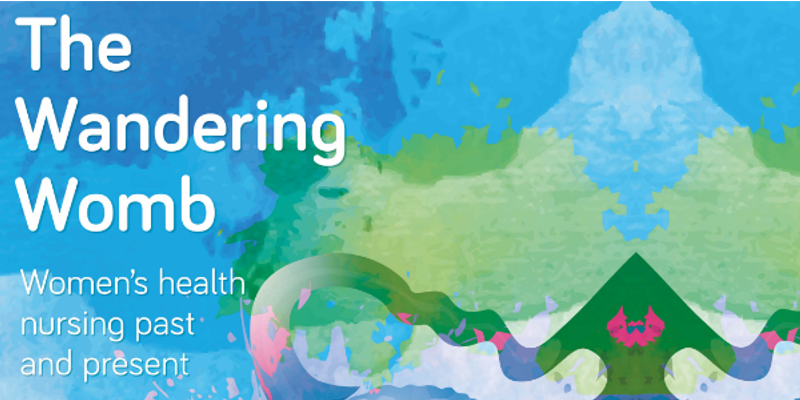 The Marvel Whirling Spray Vaginal douche was award winning. The Societe d'Hygiene of France gave a gold medal to the Marvel Company in 1902, at its Exposition in Paris. Flick through the pages of the Nursing Times and, up until the 1920s you'll see the 'Whirling Spray' advertised.
This is just one example of a practice now proved to be not only unnecessary, but dangerous for women. Ask your nurse about vaginal douching and she'll strongly advise against it. Many of us now would be outraged at reading the pamphlet accompanying the douche, claiming it to be a "woman's best safeguard against uterine cancer," particularly during the marriage when "vaginal secretions" are more common. The author of the pamphlet is an unnamed "prominent physician." Thank you, kind Sir.
This douche, loaned to us by the Royal Pharmaceutical Society, is on display in our current exhibition The Wandering Womb: Women's Health nursing past and present. We're showcasing a range of objects to illustrate the ways in which women's health has been understood and explained through the centuries, putting the nursing role at the centre.
The history of women's health has been dominated by men. Male doctors and physicians made diagnoses and decisions on behalf of women whose voices were rarely heard. In 1919, when the Nursing Registration Act was passed, the new register confirmed nursing as a predominately female profession. The Wandering Womb explores the influence that nursing has had on women's health in the century since, or indeed, the effects of an absence of nursing care before this date.
The exhibition brings together items from the RCN Library and Archive and collections at the Science Museum, the Royal College of Obstetricians and Gynaecologists (RCOG) and the Royal Pharmaceutical Society (RPS). A selection of specula from RCOG shows the variety of designs used over the last 100 years – all designs credited to men. In fact the speculum, used to open vaginal walls, was in part a way for men to examine a vagina and cervix without having to touch the woman with their hands. The speculum was designed to be practical. How comfortable a speculum would be for a woman was not a consideration.
From the eighteenth century, it was common to diagnose a woman with hysteria as a catchall explanation for a range of supposed symptoms; from faintness and nervousness to sexual desire and even troublemaking. Our friends at the RPS museum have loaned us a bottle of Dr William's Pink Pills. And very pink they are. Advertised as an iron rich tonic for the blood, these pills claimed to be a miracle cure for a variety of ailments in both genders. For women, they could cure anaemia, hysteria and the symptoms of the 'change of life.'
Also on display is a jar of Lapis Aetitis, or 'Eagle stone'; a geode which would be tied to the arm or thigh of a woman to protect her during child bearing and birth. The crystals that form inside geodes gave rise to an eighteenth century belief that the stone gave birth to other stones, hence the opinion that it could be protective for pregnant women.
Amongst these instruments and treatments designed by men, we also have stories of nursing activism. When researching the exhibition, the team found a fantastic collection of Radical Nurses Group newsletters. In a 1988 edition an article titled "Keep Women's Health in Women's Hands" outlines a campaign to save the Elizabeth Garrett Anderson Hospital as a service run by women for women. We also have a pamphlet for the Women's Health Information Centre (WHIC), a national information and resource centre for women's health issues formed in 1982. It was part of the Women's Liberation Movement and led by a collective of 15 female health workers, teachers and researchers.
Women's health nursing looks very different today. We have Clinical Nurse Specialists based in a range of areas, such as gynae-oncology and on wards. We have nurse led clinics and health care workers based in early pregnancy units. Women have much easier access to primary care from nurses. And those nurses are responsible for seeing women right through their patient journey, from diagnosis and treatment to after care. Vital to this relationship is ensuring autonomy and empowerment for the patients, ensuring their choices are heard. It's a different world to the one of vaginal douches, pink pills for pale people and "prominent physicians."
Visit the exhibition at the RCN Library and Heritage Centre until March 2018 and take a
look at our events listings
for talks and lectures on women's health nursing, including a comedy night and a history of women's underwear.
You can also see the exhibition online here.