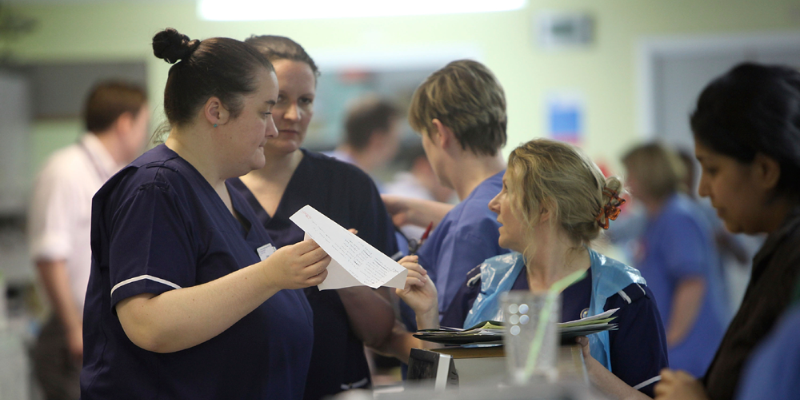 Members across the UK are leading our campaigns to get safe staffing enshrined in law.
The need for this couldn't be more urgent. There are tens of thousands of vacant nursing posts and this is set to increase. Nursing staff are stretched to breaking point.
Members tell me they are worried. They want to provide safe and effective care, but because of system-wide failures, they're being made to carry the can at the frontline.
Care left undone at the end of a shift, feeling like you've not given a patient the time or attention they need, not taking breaks or eating and drinking yourself because you're trying to cover the gaps in staffing, are all too common experiences for nursing staff.
Our campaigns in each country call for laws to set out clearly, throughout the health and social care system, whose job it is to make sure there are enough nursing staff to meet patient need.
In Wales and Scotland, the campaigns are already bearing fruit and we're working to build on the success we've had.
Why is accountability important?
Well, without accountability at all levels of the system – from government department to service commissioners and providers – the accountability for safe and effective care continues to fall to frontline practitioners.
Let's look at the current situation in England.
The Secretary of State for Health and Social Care makes decisions that impact on the NHS workforce, such as the changes to the education funding model that has led to a decline in applications from students to study nursing.
Government departments issue edicts which impact on staffing because finance is considered without safety.
And service commissioners and providers then make local decisions too.
The result of all this is that responsibility for providing safe and effective care continues to fall to frontline practitioners.
It means our members go home at the end of a shift worried about what happened that day and what they haven't been able to do because there are not enough nursing staff to provide the care needed.
It's deeply unfair to put this pressure on nursing staff when they have no way to influence the numbers of staff in their setting.
We need to fix this problem – and we need to fix it now.
In England, members currently have an opportunity to influence a review of the current law covering health and care. Take action by using our online tool to help make the case for putting accountability for workforce into law.
We're also asking members in Scotland to email their MSP to use their vote in the final debate on the Bill. We must make sure that our amendments in the Bill pass at this final stage.
And in Wales, we continue to campaign for an extension of the Act. All members in Wales are encouraged to get involved.
Please share our campaigns with friends and family too – we need to build support wider than the nursing profession if we're to create real change.
The time for action is now. Join our campaigns today.
Further reading