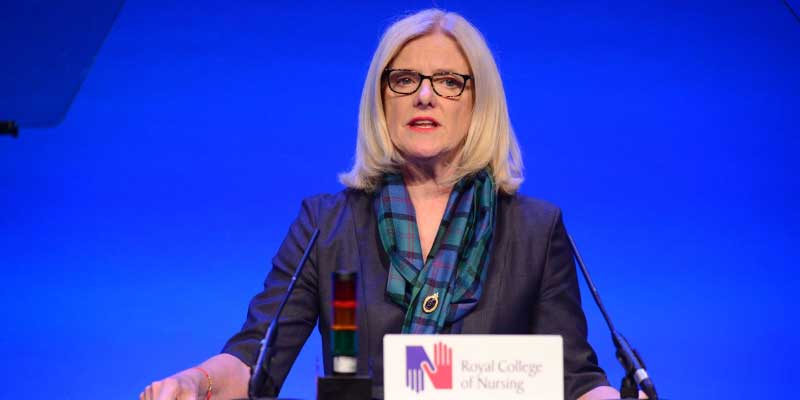 This week, I've been in Glasgow at RCN Congress – our annual conference where over 4000 members come together to share good nursing practice and debate the main issues facing nursing today.
It was an extra special Congress for me – my first as RCN Chief Executive and General Secretary and held during our centenary year. Members have been asking me all week how I've been finding it. Now it's over, I can answer that question.
Being at Congress energises me for the year ahead – our members are passionate about our profession and their passion shines out throughout the week.
Congress is where our members influence the RCN's work for the coming year. This year we debated some big topics – we don't shy away from the important issues facing nursing.We discussed the EU referendum, pay, safe staffing and much more.
One of our most significant debates was on the future of student nurse funding.The stage was a sea of pink student tea shirts, as student members stood up in force to show their strength of feeling about plans to cut student funding. It highlighted the power we have when we join together to campaign for what we believe in.
We were also joined by three inspiring speakers, including Nicola Sturgeon, First Minister of Scotland. She got a standing ovation after she committed to safe nurse staffing levels, keeping nursing tuition free and protecting pay, and spoke about the power of female leadership.
Rebecca Patton, Former President of the American Nurses Association, also had members on their feet and cheering. She talked about how real change takes time: "The action you take today will pay off. It may not be tomorrow, but it WILL pay off." It was a particularly relevant message during our centenary year.
We also had a moving keynote speech on our final day from Tommy Whitelaw, a committed dementia campaigner. He took the opportunity to thank our members for the work they do, including the care they gave his late mum, Joan.
But Congress isn't just about serious discussion. There was plenty of time for everyone to have fun at the evening social gatherings. Congress is a very special event – a time for RCN members to meet old and new friends and become more involved in the work of the RCN.
I hope many more people join us next year in Liverpool to shape the work of the College for the year ahead.I confess to having been a little nervous in the run up to the week. Now it's over, I know I had nothing to worry about.