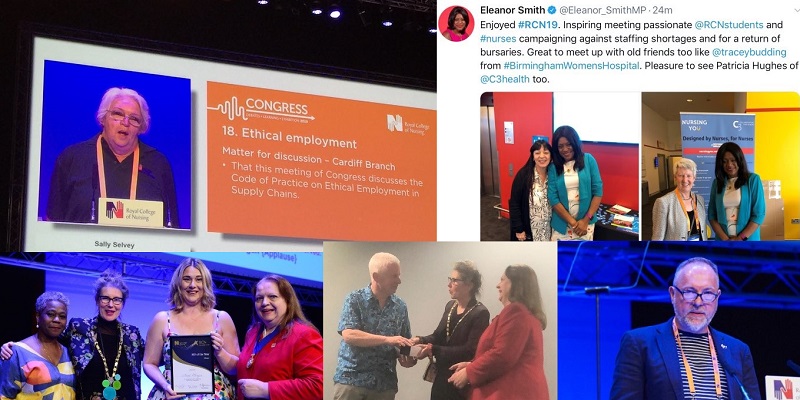 In our profession, Congress is a catalyst for learning, developing and influencing health care and nursing policy. It is about sharing the best nursing practice has to offer.
The main Congress business is done in the main hall through debates of around 20 motions on a wide range of topics, and the outcome of each of these debates shapes the RCN's work in the following year.
In addition, there are keynote speakers who bring their own personal messages to the largest single gathering of nursing staff in the UK. This year, we heard from Dame Donna Kinnair, the RCN's newly-appointed Chief Executive and General Secretary, and from Tom and Nic Wray, who shared their experience of Tom almost dying from sepsis and their determination that sepsis is identified and treated quickly by health care professionals.
Congress also has an incredibly diverse spread of fringe events. These are held every morning, lunchtime and evening, they're free and you can choose to attend whichever of them appeal to your personal or professional interest. Some events are also aimed specifically at nursing students and health care support workers, with programmes geared to their interests and practice.
Highlights
As an RCN member from the West Midlands, I think I can speak for everyone by saying 'thank you' to Debbie Higham, Diane Minnis, Jenny Bagley and everyone at the RCN regional office who helped in the organisation of the logistics of attending Congress for members from across our region.
These are just some of the highlights of the region's presence in Liverpool during Congress week:
Phil Cole from our Birmingham West and Sandwell branch introduced, on behalf of the branch, a debate on

clinical supervision of nurses by other professions

, which was seconded by Gail Brooks from our Black Country branch;

Becky Hoskins from our South Birmingham branch introduced, on behalf of the RCN Mental Health Forum, a debate on the

misuse of nitrous oxide

and its consequences;

Cathy Briggs from our Shropshire branch and Phil Noyes from our Coventry and Warwickshire branch received long-service awards as RCN representatives. Phil was also elected to the Agenda Committee, which develops the agenda for each annual Congress;

Aimie Morgan, one of our student members at the University of Wolverhampton, was named RCN Student Information Officer of the Year for her outstanding work to champion the interests of nursing students regionally and nationally;

We hosted a

visit to Congress by Eleanor Smith

, MP for Wolverhampton South West, who is also a nurse. Eleanor led the debate in Parliament last November that shone a light on how the Government's abolition of the bursary for nursing students has contributed to the fall in the number of people applying to do a nursing degree, so it was great that she could join us at Congress;

Last but not least, Sue Warner, one of our longest-serving activists in Worcestershire, has attended Congress many times but this year's event was her first in her role as Chair of RCN Council, the College's governing body. Sue's term of office as a Council member ends in December and she deserves our thanks for all she has done for the RCN in that role and many others over the years. Thank you, Sue.