RCN Management and Leadership Conference
Leading for inclusion: Turning the tide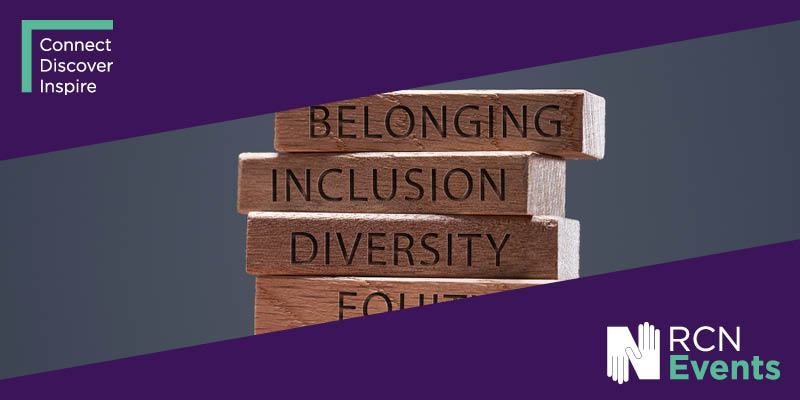 05 Mar 2024
20 Cavendish Square , Marylebone , London, W1G 0RN
Choose event information:
Book now to reinforce your skills and confidence to address EDI and intersectionality in the workplace.
The RCN Nurses in Management and Leadership Forum look forward to working face to face with delegates to deliver the programme for Leading for inclusion: Turning the tide, created in collaboration with the RCN Mental Health and RCN Women's Health Forums.
Navigating the complexities of equality, diversity and inclusion in healthcare can be difficult. This conference aims to increase nursing leaders' confidence in their inclusive leadership ability by actively participating in three intersectional case studies.
Delegates will collaborate, building on the learning from the case studies, resulting in co-produced resources that will assist them in making changes to "turn the tide" on a personal, professional and systems level.
Learning outcomes:
At the end of this conference, delegates will be able to:
Demonstrate effective, inclusive leadership practice in Equality, Diversity and Inclusion (EDI)
Using case study reflection and resources enable a safe and inclusive working environment that embeds cultural humility, emotional intelligence and cultural competence
Build personal confidence and ability to engage and contribute to meaningful conversations that support EDI
Demonstrate allyship with confidence to create and lead positive change inclusively
Facilitate an inclusive environment with the right culture and individual behaviours as important contributors to good quality care.
Who should attend?
The conference will appeal to aspiring, newly appointed or senior managers working in all health settings, including those working in the independent, educational, social care and voluntary sectors.
As a forum, we recognise the need for all to develop management and leadership qualities throughout their career and regardless of whether working in formal management or leaderships positions.


RCN Events
rcnevents@rcn.org.uk
020 7647 3577
20 Cavendish Square
Marylebone
London
W1G 0RN
20 Cavendish Square is located behind John Lewis, Oxford Street.
Visitor car parking
Q-Park Oxford Street is an underground car park situated underneath Cavendish Square. You can pre-book your parking by visiting the Q-Park website.
Tube
The nearest stations are Oxford Circus and Bond Street.
Bus
There are many buses routes that stop nearby, including the 10, 25, 55, 73, 98 and 390.
Air
London has five major airports: London City, London Gatwick, London Heathrow, London Luton and London Stansted.
London Heathrow, Gatwick and Stansted airports have dedicated express train services into central London.

London Heathrow and City airports are directly connected to the Tube network.

National Express, Easybus and Greenline coach transfers run 24 hours a day and start as low as £2 when booked in advance.
About London
For more information on London as a destination please visit www.visitlondon.com; the official city guide to London.
Download the provisional programme here.
The programme has been designed to develop inclusive leadership skills and confidence through active participation in three intersectional case studies.
The conference will stimulate collaborative working to create resources to support aspiring, newly appointed and established managers to 'Lead for Inclusion'.
Please note the details and timings within the programme are subject to change. A final programme will be in your delegate pack at the event.
Speakers to be announced shortly.
Is this conference for me?
Delegates can be confident that the programme has been designed to create a safe space to reflect and discuss equality, diversity, inclusion (EDI) and intersectionality to improve inclusivity in the workplace.
Benefits of attending
Accrue up to 7.5 CPD hours to count towards your revalidation.

Using case studies, reflect on inclusion, intersectionality and managing discrimination and how you can use this knowledge to improve opportunity, recognition and inclusivity in the workplace.
Have your say. Contribute to the panel discussion and the question and answer discussions to examine and showcase positive and negative examples of EDI.
Build and support your management and leadership skills through peer networking opportunities.
Use this opportunity to ask the RCN the questions you want answers to.
Need a helping hand with securing time off or funding to attend? Please download these helpful hints and tips.
Not an RCN member? Join today to qualify for preferential conference fees.
Type Fee VAT Total
Member (1 day fee) £125.00 £25.00 £150.00
Non-member (1 day fee) £185.00 £37.00 £222.00
Discounted rates: (max one per booking) - redeemable via telephone/booking form only

10% discount - Group discount when three or more delegates book together
Member: Pre-reg student, Retired, Health Practitioner
(1 day/40% discount £75.00 £15.00 £90.00
Member: RCN representatives, forum steering
committee (1 day/25% discount) £93.75 £18.75 £112.50
To make a booking
Online bookings are the easiest and fastest way to book 24 hours a day, 7 days a week.
Bookings can be made by phone with payment by credit card/Maestro, or by calling +44 (0) 2920546460. Lines are open from 9.30 – 16.30 Monday to Friday.
Bookings can also be made by email with a downloaded booking form with credit card details or payment/remittance advice emailed to eventsreg@rcn.org.uk
Bookings can also be made by post with a downloaded booking form with credit card details or payment/remittance advice posted to: Event registrations, PO Box 2329, Cardiff CF23 8YZ.
Invoice payment
To pay by invoice you must send all of the below to eventsreg@rcn.org.uk
A copy of the Purchase Order document from your organisation or company (we cannot process your order without it)
Your finance department or accounts payable contact email address to receive an electronic copy of the invoice from us
A completed RCN Events Booking Form for each delegate in the booking
Once the invoice has been raised, you will receive confirmation of the delegate booking on the event requested. Invoices are to be paid within 30 days of the invoice being issued.
Catering during the conference programme and conference materials are provided within the conference fee. Travel, accommodation and catering outside of the conference programme are not included in the conference fee.
Not an RCN member? Join today to qualify for preferential conference fees.
If your query relates to a booking, please contact the Registration Team directly:
Email: eventsreg@rcn.org.uk
Tel: +44 (0)29 20546460
If you have any queries regarding the conference, please contact the Events Team via:
Email: rcnevents@rcn.org.uk
Tel: +44 (0)207 6473577
Page last updated - 21/11/2023