Joint RCN and SOM Occupational Health Conference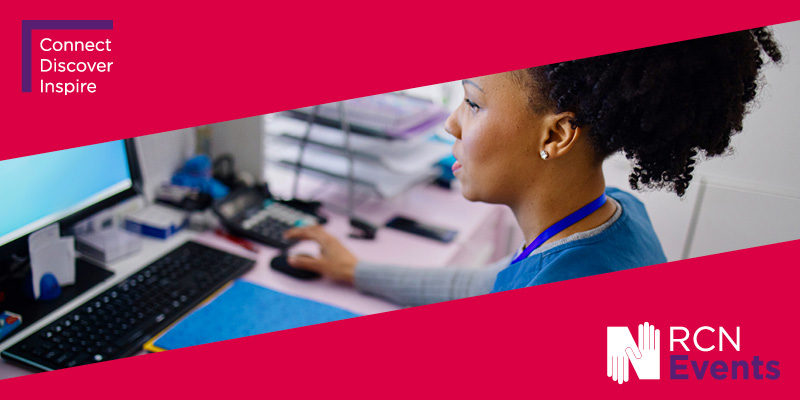 01 Dec 2023, 09:00 - 16:35
Royal College of Nursing, 20 Cavendish Square, Marylebone, London, W1G 0RN
CPD hours: 7.5
Choose event information:
Please note online bookings are now closed. Limited spaces are available to book via telephone. Please contact Events Reg Team on +44 (0)29 2054 6460
We are delighted to announce that the popular RCN and SOM Joint Occupational Health Nursing Conference 2023.

This conference will inform on a broad range of topics designed to support the continuing professional development and well-being of occupational health nursing professionals. Programme topics include risk factors and solutions for burn out, working with terminal illness, an update on hand-arm vibration, and much more.

This is a hybrid conference and delegates will have the option to join us in-person at the RCN HQ, 20 Cavendish Square, London, W1N 0RG for those all-important networking opportunities with peers, speakers and exhibitors. Alternatively, content will be accessible online.

Places are limited, so don't delay and book yours now.

Don't miss this unique opportunity to:
discover the latest developments in occupational health - including neurodiversity, Long Covid and impact of the menopause in the workplace.

refresh your understanding of new approaches and controls related to irreversible work-related risk, specifically noise induced hearing loss and hand/arm vibration.

reflect on advanced professional leadership related to burnout and terminal illness, and how to get support or provide support through mentoring.
Follow us on Twitter #RCNOH23



RCN Events
events@rcn.org.uk
020 7647 3577
Royal College of Nursing
20 Cavendish Square
Marylebone
London
W1G 0RN
20 Cavendish Square is located behind John Lewis, Oxford Street.
Tube
The nearest stations are Oxford Circus and Bond Street.
Bus
There are many buses routes that stop nearby, including the 10, 25, 55, 73, 98 and 390.
Please note these programme details and timings are subject to change. A final programme will be circulated prior to the event.
The conference is open to all nurses, student nurses, nursing support workers and allied health professionals working in the academic, clinical, and professional setting in the UK and overseas.
Benefits of attending:
Accrue up to 7.5 hours of CPD to count towards your revalidation





Hear from eminent keynote speakers on contemporary issues in occupational health.





Consider and highlight best practice at national and local level





Network with occupational health nursing professionals from across the UK





Engage and network with exhibitors on new service developments and products.
Need a helping hand with securing time off or funding to attend? Please download these helpful hints and tips.
Not an RCN member? Join today to qualify for preferential conference fees.
Type
Fee
VAT
Total
Member (1 day fee) in person
£ 125.00
£ 25.00
£ 150.00

Non-member (1 day fee ) in person

£ 185.00
£ 37.00
£ 222.00

RCN Member online



£ 100.00
£ 20.00
£ 120.00
Non

RCN Member online

£ 140.00
£ 28.00
£ 168.00
Discounts available (max one per booking) - redeemable via telephone/booking form only.
40 % discount - nursing student members (pre-registration only), associate retired RCN members, HCA's or AP's
25% discount - Accredited RCN Trade Union Representatives
10% discount - Group discount when three or more delegates book together
Conditions and exclusions
Discounted offers including early bird rates cannot be combined. Only one discount can be used for each booking whether it is an individual or group booking.
Member: Pre-reg student, retired, health practitioner (40% discount) - this discount is strictly for RCN members. Only students that are enrolled in a pre-registration nursing programme qualify for a 40% discount
Discounts cannot be accumulated or redeemed when booking online. Please contact RCN Event Registration to book a discounted place
To make a booking
Online bookings are the easiest and fastest way to book 24 hours a day, 7 days a week.

Bookings can be made by phone with payment by credit card/Maestro, by calling: 02920 546460. Lines are open from 9.30am - 4.30pm Monday to Friday.

Bookings can also be made with a downloaded booking form with credit card details or payment/remittance advice emailed to eventsreg@rcn.org.uk

All bookings will be confirmed in writing.

You will not be registered for this event unless payment accompanies your application. Places cannot be held provisionally.

The RCN reserves the right to refuse any booking at any time.



To pay by invoice
Invoice payment – not available online.
To enable us to raise an invoice for your booking we require:
-A copy of the official Purchase Order document from your organisation or company, addressed to supplier: Royal College of Nursing, 20 Cavendish Square, London. W1G 0RN. We are unable to process your order without it, requisition orders are not accepted.
-Your Finance department/accounts payable contact email address to receive an electronic copy of the invoice from us
-A completed RCN Events Booking Form for each delegate in the booking
Please send the above to eventsreg@rcn.org.uk.

Once the invoice has been raised, you will then receive confirmation of your delegate booking on the event requested. Invoices are to be paid within 30 days of the invoice being issued.

We always endeavor to process your booking as quickly as possible, however, this process can sometimes take up to 10 working days.

So that we can process your booking quickly, please send all the booking forms and the Purchase Order to us together on the same email.

This conference and exhibition is an unrivalled opportunity for you to connect directly with nurses from across the UK and beyond.
There are a number of ways you can get involved, from networking to raise your profile to tailored commercial packages to help achieve specific objectives. Please contact the exhibitions team on 020 7647 3959 or email
exhibitions@rcn.org.uk.
Our virtual venue

This event is hosted on Zoom Events, the all-in-one virtual conference platform that enables attendees to connect, learn and interact live with people anywhere.

Please note this is a private event for registered delegates who have a valid conference booking. Registered delegates will also be able to view recorded content after the event.

We recommend reading the following guidance before the event to ensure that you get the best experience using Zoom Events.

Accessing Zoom Events

Delegates can expect to receive their joining instructions by email one week before the event. If you're unable to locate your joining instructions, check your junk email first, then please contact a member of the events team on 0207 647 3577 or email rcnevents@rcn.org.uk

If you have registered for the event using a work email address, there are occasions when firewall settings can block the email reaching you (see Technical Support for more information.)

If you do not already have a Zoom Events account, you will be asked to create one and agree to their terms and conditions before accessing the event.

Note: To join the event, users must log in to Zoom Events using the same email address used when booking a place at the event.

Please test your joining link before the day of the event. Some organisations firewall protection may block access to Zoom Events, so you may need to contact your IT department to resolve this.

Creating your profile

When you first access Zoom Events, you'll be prompted to set up your profile.

You can upload a photo, add your place of work, job title, social media contacts and a brief biography to give you more presence and maximise networking at the event.
In preparation for the event, we recommend the following:
Check your equipment
Use a computer or laptop if possible, preferably not more than 3 years old
If using a mobile device, please ensure that you are using iOS or Android
Before joining the event on a computer or mobile device, download the latest version of the Zoom desktop client/app from the Download Centre. Otherwise, you will be prompted to download and install Zoom when you click the join link
Check your internet connection
You can use the system-readiness tool to identify if your device and network connection meet the minimum requirements needed to enjoy the optimal Zoom Events experience
The test provides users with recommendations based on the results
Check your browser
Use the latest versions of Google Chrome, Safari, or Firefox on your computer or laptop
Open the event in incognito or private browser window
Troubleshooting tips
Check that you have followed the advice above for the best experience using Zoom Events
If using a work device with firewall protection, share this network guide with your IT department ahead of the event for Zoom's firewall rules
Close all other applications or programmes on your device e.g. Microsoft Teams
Refresh your browser
Turn off your camera to improve connectivity
Reduce the number of devices in your household using the internet as this could affect your bandwidth internet connection
Restart your computer
After the event

Please take a few minutes to complete the evaluation at the end of the event. All answers will be treated in the strictest confidence and will help us to shape future events, both online and face to face.


Download your self-learning certificate
Download your self-learning certificate from this webpage following the event. In order to validate the learning gained we recommend that a reflection is completed and submitted with the certificate as part of any review.
Registration
On arrival please make your way to the RCN registration desk which will be clearly signposted. You will be issued with conference materials, including a programme, certificate of attendance and a name badge. Refreshments will be available through-out registration which takes place 9 – 9.50am.

Lunch

Lunch will be served at the time specified in the programme. If you have any specific dietary requirements, please inform us in advance so we can ensure your needs are catered for.

Specific requirements

If you have any specific requirements (e.g. hearing loop etc.), please inform us in advance so we can ensure the appropriate arrangements are in place.

Exhibition

There will be a small exhibition running alongside this event. These exhibitors have chosen to exhibit at this conference as they feel their products and/or services may be of interest to you. The exhibition also supports the conference, therefore please take the time to go and visit each exhibition stand during the exhibition viewing times.

Twitter
You can tweet ahead of the event and on site by using #RCNOH23 and including @nurse4ph and @SOMNews.
Presentation and recordings

Presentations and recordings we have permissions to share will be made available to delegates approx. 1-2 weeks post-event.
Receipts and registration enquiries

If you require a receipt or have any queries relating to your registration or payment for this event please contact the RCN Events Registration team direct on 029 2054 6460 between 9am – 4.30pm, Monday to Friday, or email eventsreg@rcn.org.uk
Alternatively, please contact staff on the registration desk at the event.

Cancellations and substitutions

Only cancellations received 10 working days before the start of the event will be refunded, minus a 25% administration fee. Regrettably, no refunds can be processed after this date.

Places can be substituted at any time. Please contact the RCN Event Registrations team on 029 20546460 with details of name changes.

After the event

Please take a few minutes to complete the evaluation at the end of the event. All answers will be treated in the strictest confidence and will help us to shape future events, both online and face to face.

The RCN Public Health Forum and Society of Occupational Medicine look forward to welcoming you to the conference.
Please find below some useful links to Occupational Health resources:
To book your place please contact the RCN Events Registration Team (Monday to Friday 9am-4.30pm)
+44 (0)2920 546460

For any other queries relating to this conference please contact the Events Team:
+44 (0)207 6473577
Page last updated - 01/12/2023