RCN Society of Orthopaedic and Trauma Nursing Conference
Moving Forward Across the Lifespan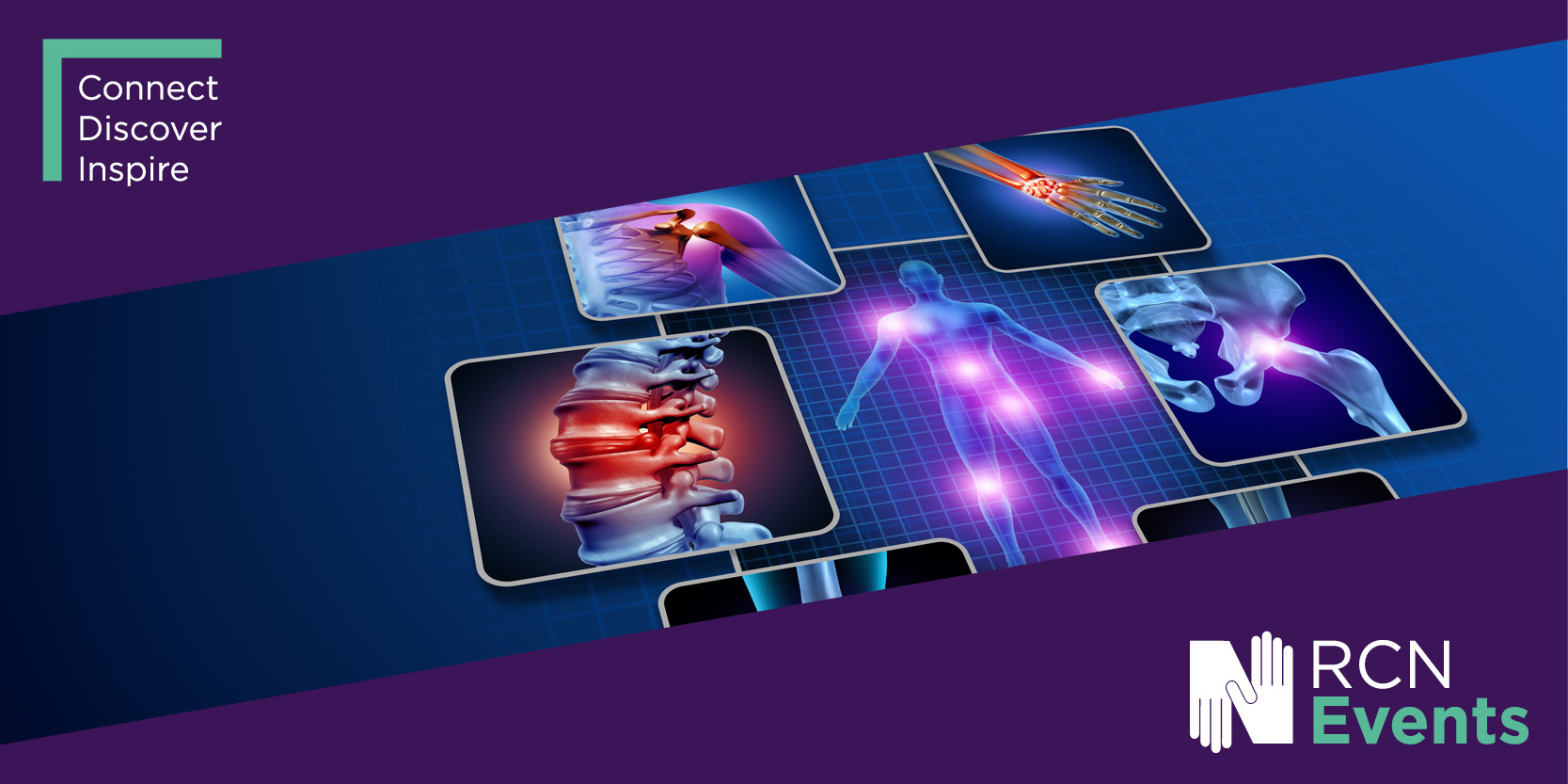 08 Dec 2023, 09:30 - 16:00
20 Cavendish Square , Marylebone , London, W1G 0RN
CPD hours: 6.5
Choose event information:
Bookings now open.
The RCN Society of Orthopaedic and Trauma Nursing Conference returns to RCN HQ in London on Friday 8 December 2023.
Open to nursing professionals working or interested in trauma and orthopaedic care, this practical event will cover the following topics:
• Fracture management
• Future of orthopaedic and trauma nursing
• Transitioning from child to adult with orthopaedic conditions
• Learning to write for publication
Up to 6.5 hours of CPD available.
Join the conversation with #RCNSOTN23
RCN Events Team
RCNEvents@rcn.org.uk
020 7647 3577
20 Cavendish Square
Marylebone
London
W1G 0RN
20 Cavendish Square is located behind John Lewis, Oxford Street.
Visitor car parking
Q-Park Oxford Street is an underground car park situated underneath Cavendish Square. You can pre-book your parking by visiting the Q-Park website.
Tube
The nearest stations are Oxford Circus and Bond Street.
Bus
There are many buses routes that stop nearby, including the 10, 25, 55, 73, 98 and 390.
Air
London has five major airports: London City, London Gatwick, London Heathrow, London Luton and London Stansted.
London Heathrow, Gatwick and Stansted airports have dedicated express train services into central London.

London Heathrow and City airports are directly connected to the Tube network.

National Express, Easybus and Greenline coach transfers run 24 hours a day and start as low as £2 when booked in advance.
About London
For more information on London as a destination please visit www.visitlondon.com; the official city guide to London.
Please note these programme details and timings are subject to change. A final programme will be circulated prior to the event.
A copy of the draft programme can be found here.
This event is aimed at all health care professionals who are working in, or who have an interest in the specialism of trauma and orthopaedics.
Benefits of attending:
• Attend an RCN accredited conference and accrue over 6 hours of CPD to count towards your revalidation
• Hear from esteemed speakers and enhance your knowledge and skills through workshop activities
• Join in discussions around nursing development in the specialty of trauma and orthopaedics, reflecting on your own practice
• Benefit from networking face to face with peers and engage with exhibitors on new service developments and products.
Twitter: #RCNSOTN23
We are delighted to be joined by the following speakers at the conference:
Dr Julie Santy-Tomlinson RGN, Freelance Writer and Educator (previously Senior Lecturer in Nursing at the University of Manchester – now retired)
Julie Craig, Orthopaedic Specialty Doctor, Royal Victoria Hospital, Belfast Trust
Julia Judd, Advanced Nurse Practitioner, Southampton University Hospitals NHS Foundation Trust
Dr Rebecca Jester, Editor of the Journal of Orthopaedic and Trauma Nursing
Full speaker biographies will be available shortly.
This conference and exhibition is an unrivalled opportunity for you to connect directly with nurses from across the UK and beyond.
There are a number of ways you can get involved, from networking to raise your profile to tailored commercial packages to help achieve specific objectives. Please contact the exhibitions team on 020 7647 3959 or email exhibitions@rcn.org.uk.
Not an RCN member? Join today to qualify for preferential conference fees.
| | | | |
| --- | --- | --- | --- |
| Type | Fee | VAT | Total |
| RCN Member (1 day fee) | £ 125.00 | £ 25.00 | £ 150.00 |
| Non-member (1 day fee ) | £ 185.00 | £ 37.00 | £ 222.00 |
| Discounted rates: | | | |
| Member: Pre-reg student, Retired, health practitioner (1 day / 40% discount) | £ 75.00 | £ 15.00 | £ 90.00 |
| Member: RCN representatives, forum steering committee (1 day / 25% discount) | £ 93.75 | £ 18.75 | £ 112.50 |
Discounts available (max one per booking) - redeemable via telephone/booking form only.
40 % discount - nursing student members (pre-registration only), associate retired RCN members, HCA's or AP's
25% discount - Accredited RCN Trade Union Representatives
10% discount - Group discount when three or more delegates book together
Conditions and exclusions
Discounted offers including early bird rates cannot be combined. Only one discount can be used for each booking whether it is an individual or group booking.
Member: Pre-reg student, retired, health practitioner (40% discount) - this discount is strictly for RCN members. Only students that are enrolled in a pre-registration nursing programme qualify for a 40% discount
Discounts cannot be accumulated or redeemed when booking online. Please contact RCN Event Registration to book a discounted place
To make a booking
Online bookings are the easiest and fastest way to book 24 hours a day, 7 days a week.

Bookings can be made by phone with payment by credit card/Maestro, by calling: 02920 546460. Lines are open from 9.30am - 4.30pm Monday to Friday.

Bookings can also be made with a downloaded booking form with credit card details or payment/remittance advice emailed to eventsreg@rcn.org.uk

All bookings will be confirmed in writing.

You will not be registered for this event unless payment accompanies your application. Places cannot be held provisionally.

The RCN reserves the right to refuse any booking at any time.



To pay by invoice
Invoice payment – not available online.
To enable us to raise an invoice for your booking we require:
-A copy of the official Purchase Order document from your organisation or company, addressed to supplier: Royal College of Nursing, 20 Cavendish Square, London. W1G 0RN. We are unable to process your order without it, requisition orders are not accepted.
-Your Finance department/accounts payable contact email address to receive an electronic copy of the invoice from us
-A completed RCN Events Booking Form for each delegate in the booking
Please send the above to eventsreg@rcn.org.uk.

Once the invoice has been raised, you will then receive confirmation of your delegate booking on the event requested. Invoices are to be paid within 30 days of the invoice being issued.

We always endeavor to process your booking as quickly as possible, however, this process can sometimes take up to 10 working days.

So that we can process your booking quickly, please send all the booking forms and the Purchase Order to us together on the same email.

Registration
On arrival please make your way to the RCN registration desk which will be clearly signposted. You will be issued with conference materials, including a certificate of attendance and a name badge. Refreshments will be available throughout registration from 9.30am.
Accommodation
Delegates are responsible for booking their own accommodation. If you require accommodation before or after the conference, our recommendation is the accommodation service offered through
Programme
A copy of the programme will be provided on the day and is available online here.
Exhibition
There will be an exhibition running alongside this event. Exhibitors have chosen to exhibit at this conference as they feel their products and/or services may be of interest to you. The exhibition also supports the conference, please take the time to visit each exhibition stand during the exhibition viewing times.
Lunch
Lunch will be served at the time specified in the programme. If you have any specific dietary requirements please email RCNEvents@rcn.org.uk in advance so we can ensure your needs are catered for.
Specific requirements
If you have any specific requirements (e.g. hearing loop etc.), please email RCNEvents@rcn.org.uk in advance so we can ensure the appropriate equipment is in place.
Twitter
You can tweet ahead of the event and on site by using #RCNSOTN23 and including @theRCN for retweet.
Receipts and registration enquiries
If you require a receipt or have any queries relating to your registration or payment for this event please contact the RCN Events Registration team direct on 029 2054 6460 between 9am – 4.30pm, Monday to Friday, or email Eventsreg@rcn.org.uk
Alternatively please contact staff on the registration desk at the event.
Cancellations and substitutions
Only cancellations received one full month before the start of the event will be refunded, minus a 25% administration fee. No refunds can be processed after this date.
Places can be substituted at any time. Please contact the RCN Event Registrations team on 029 2054 6460 with details of name changes.
Please note: Substitutions are strictly only valid for an entire booking.
To book your place, please contact the Events Registration Team (Mon – Fri 9am – 4.30pm)
Email: Eventsreg@rcn.org.uk
Tel:+44 (0)29 2054 6460
If you have a general query, please contact the Events Team:
Email: rcnevents@rcn.org.uk
Tel:+44 (0)20 7647 3578
Page last updated - 01/12/2023