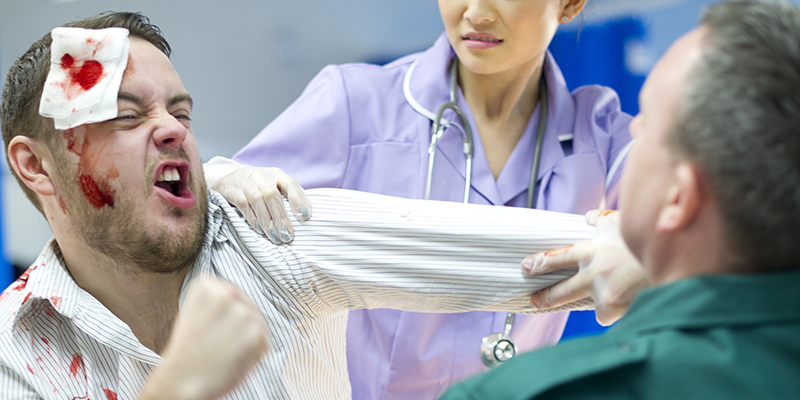 Attacks on health care workers have reached an all-time high with an average of 193 incidents reported each day.
An RCN members' survey found that 56% had experienced physical or verbal abuse from patients and a further 63% from patients' relatives or members of the public.
These figures correspond with reports from NHS Protect showing a 4% rise in physical assaults against health care workers in England from 67,864 in 2014/15 to 70,555 in 2015/16.
For staff, the results can be devastating.
Last year nurse Sharon Morris was attacked in a mental health unit and the effect on her life has been profound.
"I'm not the same calm but confident woman I was," says Sharon.
"Personally, I'm feeling vulnerable, and I feel I'm not much use to my family as I am on edge whenever we are around people. I have nightmares and flashbacks.
"The worst part is seeing my assailant's face superimposed on my eldest son's face – they are physically similar – and I couldn't cope with him hugging me for many weeks.
"I was off sick for three months, and I'm now seeking redeployment away from patient areas; I get anxious around patients, so I'm currently just doing office work."
Yet NHS Protect figures show only around 10% of physical assaults that are unrelated to a medical condition, such as a mental health problem or dementia, result in criminal sanctions.
After a petition started by radio station LBC received 100,000 signatures MPs debated whether assaulting NHS medical staff should be classed as a specific offence.
During the debate a number of concerns identified by the RCN were raised.
Oliver Bowden MP talked about the risks to lone working staff in the community, while Liz McInnes MP highlighted accounts from RCN safety reps which said a lack of support from employers can prevent staff from reporting attacks.
It was noted there is already a law in Scotland to protect NHS medical staff, while Alex Chalk MP said NHS staff needed to know law and order was on their side.
There was no vote following the debate but Parliamentary Under-Secretary of State at the Ministry of Justice, Sam Gyimah, pledged to review current processes and to meet with the Director of Public Prosecutions.
Kim Sunley, RCN Senior Employment Relations Adviser, said: "A specific law would have a powerful deterrent effect, and may go some way towards increasing the number of criminal sanctions against those who wilfully assault nursing staff.
"But as Sharon's case shows, assaults do not just happen in emergency settings. Nurses working in mental health units or out in the community are also at risk.
"Some are left traumatised, with many having to take time off work to recover, both emotionally and physically. Some leave nursing altogether, no longer willing to accept such abuse.
"And as well as the trauma these attacks cause individuals, they also cost the NHS an estimated £69 million a year through staff absence, loss of productivity and additional security. That's the equivalent of 4,500 nurses."
What do you think? Should assaulting NHS staff be a specific offence? Email bulletin@rcn.org.uk