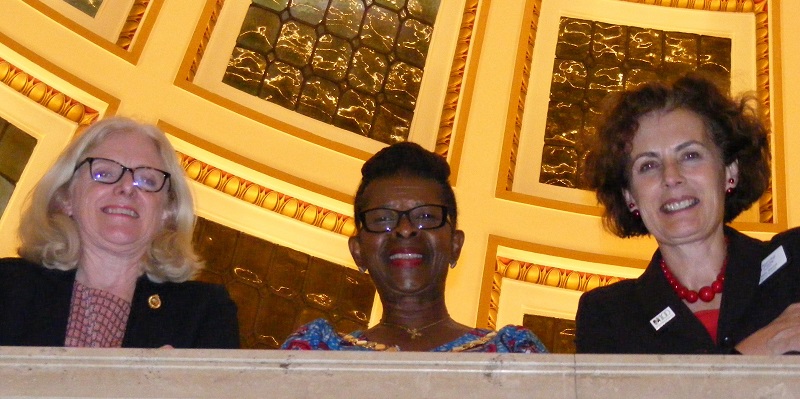 Councillor Mohammed Saghir said: "Today, as they do every day, we can be sure that nurses here in Nottingham and in the rest of the East Midlands and far beyond are achieving truly amazing things for patients and their families.

"Right now, nurses are succeeding in making the extraordinary seem ordinary. Right now, they're bringing comfort where there was distress, they're bringing relief where there was pain, they are tending and they are caring and they are thinking in the very finest traditions of nursing.

"So, thank you for being here this afternoon to show your appreciation for the Royal College of Nursing and for all the good that nurses do."
Nurse of the year
Speaking at Nottingham's Council House, Councillor Saghir said he was proud that Nottingham had recognised the contribution of nurses by holding an annual Nurse of the Year competition, sponsored by NET, the operator of the Nottingham tram system. Each year, a tram is named after the winner of the competition.
The Lord Mayor added: "It's entirely possible that as we celebrate nurses inside this building this afternoon, a tram will glide past outside that bears the name of Aprille Jones, who is the current Nurse of the Year.

"Of course, Aprille's name isn't as well-known as the tram called Torvill and Dean or the tram called Jesse Boot or the tram called Paul Smith, but what's important is that she represents a group of professionals who deserve to be recognised every bit as much - and celebrated far more than their characteristic modesty usually allows."
Celebrations
Councillor Saghir presented long service awards to RCN representatives Nigel Mellors, David Miller, Neil Thompson, Jean Thornton and Michael Hayworth, each of whom completed at least 20 years of continuing service to the College in 2016.
The civic reception crowned of a day of celebration of the RCN centenary. Earlier, more than 100 members from across the region gathered at the Council House for a learning seminar on current issues in nursing and health care opened by prominent nurse and RCN Fellow Dame Elizabeth Fradd.
Afterwards, RCN representatives and branch activists from the East Midlands were joined for an afternoon tea party by RCN President Cecilia Anim, Michael Brown, Chair of RCN Council, and Janet Davies, RCN Chief Executive and General Secretary.
Caption
RCN President Cecilia Anim at the RCN centenary celebration in Nottingham, flanked by Janet Davies, left, and Sheila Marriott.