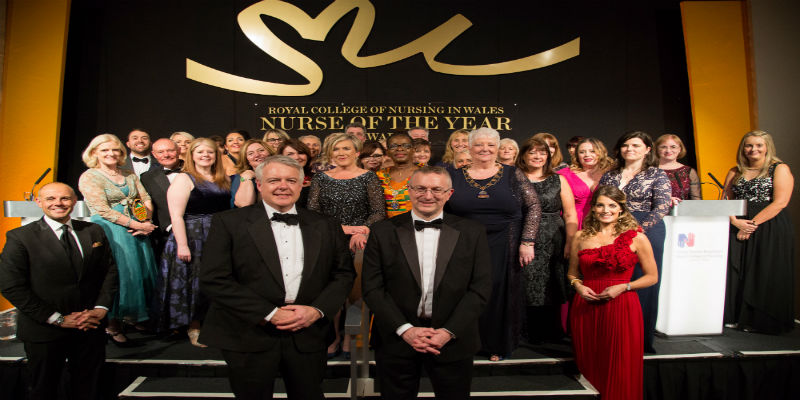 Sian Thomas was named Wales Nurse of the Year 2016 at last night's Fifth Annual RCN in Wales Nurse of the Year Awards, held at City Hall, Cardiff.
Sian, a Consultant Nurse (Child Health) at Aneurin Bevan University Health Board, emerged as the overall winner of the evening. The Rt. Hon. Carwyn Jones AM, First Minister for Wales presented the award alongside Steve Ham, Chief Executive at Velindre NHS Trust (the sponsors of the award this year), RCN President Cecilia Anim, RCN Wales Board Chair Gaynor Jones and Director of RCN Wales, Tina Donnelly. Sian was recognised for her innovative and pioneering work in children's health.
Sian's effective leadership of a multi-agency team made a significant contribution to meeting the holistic needs of a child with complex needs. A parent requested that her child be supported to attend mainstream school, whilst using a blended family food diet via a gastrostomy. Sian developed an innovative response, enabling the request to be safely and effectively realised. Sian has enabled this child to be supported to reach her full potential and thereby improve her quality of life. Sian's tenacity, motivation and leadership has provided positive objective beneficial outcomes including significant progress in physical growth, cognitive, physical and social development. The child's parents reported a positive impact for the family, saying: 'This all seemed so impossible when there was talk of going to school, but it's amazing what has been achieved.'
There has been interest from other health boards and children's organisations to adopt the protocol so Sian has spoken at conferences and has had work published on this subject. Sian has demonstrated exceptional leadership in promoting the public health agenda supporting healthy living.
The evening was themed around the RCN's UK Centenary and was a fantastic success. Awards were given out in 17 categories, including a Lifetime Achievement Award and the Wales Nurse of the Year Award, commending a range of nursing practice in Wales.
In celebrating the Centenary of the RCN, two special recognition awards were given out on the night including the Chief Nursing Officer for Wales Award given to Professor Jean White, the current CNO for Wales. Michele Pengelly received a Centenary Patient's Award for her care of a cancer patient while working as a nurse at Velindre NHS Trust in Cardiff.
Tina Donnelly CBE, TD, DL, Director of the RCN in Wales, said: "Sian has an exceptional leader in the field of child health. Her work has empowered her patients and their families and improved their quality of life."
Every day nurses care for patients and communities, making a positive difference in the lives of many. These compassionate and competent nurses are a credit to the field of health care and their efforts deserve recognition. The RCN in Wales is committed to honoring nurses whose dedication and achievements have contributed to the nursing profession. I would like to extend my congratulations not just to Sian but to all the award winners and shortlisted nominees."
Sian Thomas, RCN in Wales Nurse of the Year 2016, said: "I feel very honoured to be a children's nurse and work with families and multi-agency staff to make a real difference to children and their families. In the modern health care arena, we as nurses need to develop innovative solutions to complex situations."
"I feel extreme pride both professionally and personally. Being awarded this title enables the sharing of knowledge and experience about our initiative and to support other nurses in their practice."
The Rt Hon. Carwyn Jones AM, First Minister of Wales, said: "Congratulations to Sian Thomas on this well-deserved award. By going the extra mile she has made a real difference to the lives of many children in Wales, helping them to overcome the barriers they face and achieve their full potential. Everyone involved in our health service has an invaluable role to play, but nurses truly are on the front line. Their dedication and commitment does not go unnoticed and I speak on behalf of the people of Wales when I say thank you for the professionalism and personal commitment they show each and every day."
For a full list of winners and runners-up take a look at our full press release.