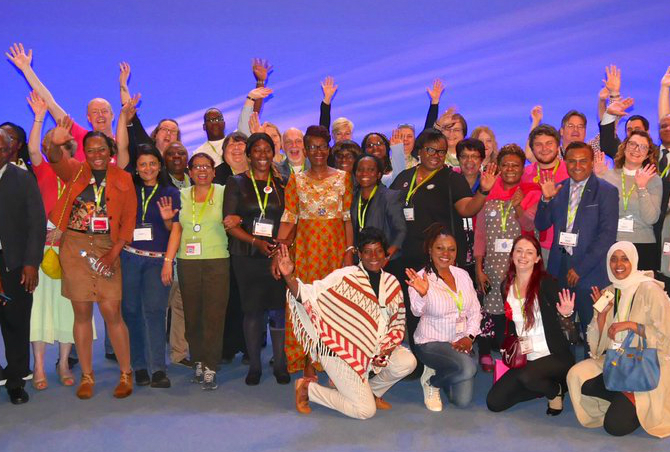 The first event at Congress saw the presentation of the RCN Awards, given to RCN members who have gone the extra mile for RCN members and the wider health service and social care system. Out of all the regions, we were delighted to see London members walk away with the most awards.
RCN London award winners were:
Nicki Parry – Learning Rep of the Year
Daniel Gooding – Student Information Officer of the Year
Zeba Arif – Award of Merit
Felicia Cox – RCN Fellowship
Debbie Holloway – RCN Fellowship
Ruth Oshikanlu – RCN Fellowship
Dr. Sue Woodward – RCN Fellowship
Congress this year saw the announcement of the result from the RCN's pay poll. To a hall full of RCN members, staff and journalists, RCN Council Chair Michael Brown announced that 52,000 members had taken part in the poll. 78 per cent said they were willing to go on strike over nurse pay with 91 per cent voting in favour of industrial action short of striking.
The results were a resounding rejection of government policy. Following the results, Congress tabled and passed an emergency resolution calling for a 'Summer of Protest' after which a formal ballot for strike action would follow should the next government refuse to lift the pay cap. Find out how you can get involved with the Summer of Protest and become a Pay Champion here.
On Sunday night, RCN London held its Congress Welcome event which brought together members for a night of celebration. We were joined by Oliver Shanley, Chief Nurse for London, as well as London Assembly member Jenette Arnold who addressed members alongside RCN London Board Chair Cynthia Davis and Regional Director Bernell Bussue. The RCN London Award of Merit was given to Danielle Tiplady for her tireless campaigning on issues affecting nurses - in particular her petition to Scrap the Cap which helped secure a parliamentary debate on nurse pay.
Congress this year also featured some prominent speakers. Leader of the Labour Party Jeremy Corbyn and Liberal Democrat Leader Tim Farron addressed members on Monday. Jeremy Corbyn promised that a Labour government would end the pay restraint on public sector workers, reinstate the nurse bursary and enshrine safe staffing levels in Law. Tim Farron said the Liberal Democrats would increase funding for the NHS through a 1p rise in income tax as well as also indicating he would work to reinstate the bursary and increase public sector pay.
The day of political speeches was also notable by one absentee; Theresa May. There was no representative from the Conservative party at Congress, with the government writing to RCN on Tuesday indicating that there was no one available to speak to members. Congress later tabled an emergency resolution condemning the government no-show with General Secretary Janet Davies writing a critical letter to the Prime Minister in reply.
RCN London featured in a number of media pieces during Congress. Operations Manager Sue Tarr was interviewed by BBC Radio London about the pay poll result and safe staffing, which you can listen to here (2h17mins), as well as LBC and BBC London TV. RCN London members were also supported to appear in the media. Board member Samuel Newman was interviewed by BBC News and Christina Clark, a mental health nurse and Ismalia De Sousa, a nurse stroke specialist, were filmed reacting to the party leaders' speeches on ITV News. Their clip featured on both the 6:30pm and 10:00pm evening news. Finally, Amina Ahmed, a paediatric nurse from Lewisham spoke about housing on the BBC Ten O'clock news on Tuesday 16 May.
RCN London members drove debate at Congress, contributing to discussions in the main hall and tabling resolutions. Zeba Arif, from North West London, placed a motion for debate on trafficked men and women and, importantly, how nurses can best supported to spot victims when they are brought into hospital settings. Congress, as usual, continued to offer opportunities for members to explore professional development and to learn about a range of health care issues. There were seminars on STPs, mental health, safeguarding as well as an exhibition centre that showcased innovative new treatments and nursing techniques.
London Regional Director Bernell Bussue, said: 'I always find it a privilege to attend Congress with RCN London members. Their dedication to caring, protecting their profession and stretching themselves as professionals never fails to leave me feeling inspired. This year, our members won a number of awards for their service and in the debates spoke eloquently and passionately about the issues affecting them and their colleagues.
"In London, we have sought to work closely with our key active members and we are very fortunate to have energetic and committed staff keen to represent nurses and the nursing profession. I look forward to working closer together over the next few months as we challenge the government over the summer about the worsening state of our health service and social care system.'
Debates from Congress can be found here.