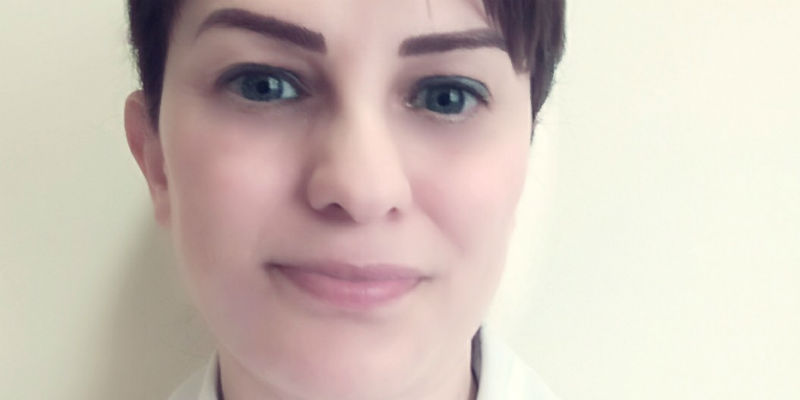 Where do/did you work as a trainee nursing associate (TNA)?
My first contact with the healthcare system was through volunteering in a care home, six years ago. After a year they offered me a job and that was the beginning of my nursing career. I started studying with The Open University and started looking for better job opportunities. I applied and got a job in NHS, in orthopaedics, but after a year of doing extra shifts in almost all hospital departments I've decided that I was attracted to Cardiology so applied and got a job there. The ward team I've worked with, from managers to colleagues, were amazing and I truly enjoyed three years working there. But I wanted more so when the Nursing Associate pilot programme came along and the chance to study with UCLAN, I couldn't miss the opportunity to apply for it. I'm glad I did, it's a fantastic opportunity.
What qualities do you think a TNA needs?
There are certain characteristics which make a nurse a 'good nurse': a deep empathy for someone else's suffering, excellent communication skills, being non-judgemental, respect, critical thinking, and the ability to stay calm under pressure to name just a few. Being a nurse is as much about kindness and caring for a person as it is about medical knowledge. But overall this, the heart of nursing is and will always be compassion.The same applies to TNAs.
What do you think is the role of a TNA?
In my opinion, TNAs have a responsibility to act as advocate in the best interest of patients and in the long term, an effective advocacy will result in desirable changes in the wellbeing of patients and wider community.
What is your favourite/most challenging part of your job?
My favourite part of the job is constantly learning new things and helping people, especially the elderly who are generally so grateful. I love the human interaction, the fact that I can do something for a patient that makes it 'better' and I get a smile, a thank you or best of all, a hug. The most difficult part of being a TNA is realising that no matter how great my nursing care is, sometimes the patients I care for do not survive. That no matter what me and my colleagues do, nothing can change the inevitable outcome. And that can be frustrating sometimes.
Can you describe your working day?
District nurses care for patients with nursing needs in their own home or residential care settings and my day usually starts at 9am with a brief meeting. Each nurse will have allocated a number of patients to be seen on that day, for different clinical treatments: wound care, leg ulcer assessment and management, compression bandages, pressure ulcers prevention and treatment, end of life care and medication administration to name a few. I'm teaming up with my mentor, most of my shifts and she's always making time to explain the procedures to me and encourage me to practice them in a safe manner. As part of the 'lone worker' policy we keep in telephone contact with the rest of the team and share visits if necessary. The care and support we provide is often acknowledge with compliments from patients or their families which makes me feel valued and gives me job satisfaction.
Why do you think it's important for nurses and TNAs to be RCN members?
I think it's very important to be part of the world's largest nursing union and professional body which is Royal College of Nursing; you can get legal advice and representation on work related issues, raising your professional/local concerns or by highlighting issues that will affect all health workers at a national level.
What might we not know about nursing but would be interesting to hear?
Many people are coming into nursing today as a second, sometimes even third career, with backgrounds in education, business, trades, banking, etc. We are the front line in a profession where we actually make a difference in a person's life. Being a nurse can be demanding, both emotionally and physically, but for those dedicated to caring for others, the benefits and rewards will outweigh the challenges.