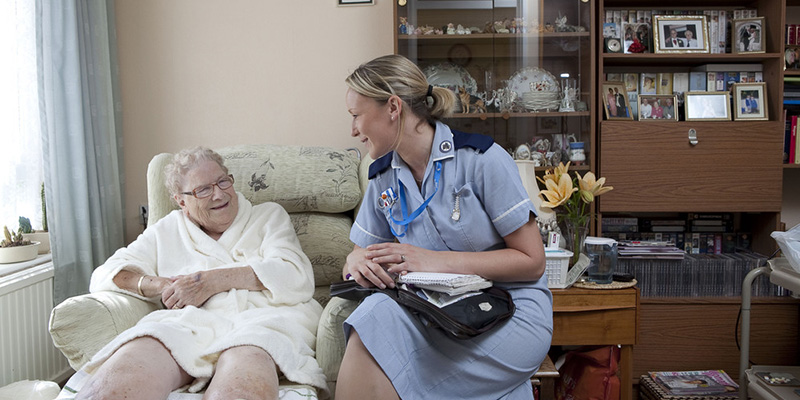 According to the report, published today, one in seven district nursing posts were lost between 2014 and 2016.
Despite this, district nurses are having to act as "shock absorbers" for other parts of the NHS and social care system, covering for shortcomings in these areas without extra funding or staffing.
The report includes examples of district nurses caring for patients discharged from hospital prematurely to free up beds, undertaking GP tasks such as certifying deaths and providing additional support for older people due to a lack of social care.
This is having a knock-on effect, with patients receiving end of life care having to wait up to eight hours for a district nurse and hospices stepping in to perform basic palliative care tasks.
There are also concerns a rushed approach may lead to issues such as undiagnosed problems or safeguarding concerns going unnoticed.
RCN Chief Executive Janet Davies said: "This report lifts the lid on the dangers of trying to provide nursing care on the cheap.
"Patients waiting for district nurses at home are being let down as the funding pressures bite.
"Nursing staff are straining to hold things together for their patients but they can only hold the fort for so long.
"Safety for patients is compromised when district nurses are asked to do more with less as lost colleagues are not replaced."
Janet said investment in community services was vital to reduce the pressures across the health service.
"We need to address the cause, not just the symptom," she said. "Investment in district nurses reduces unnecessary hospital stays and helps get people home again."
"If the Government wants to support patients away from hospital, it must fund an integrated system with community services at its core; support existing district nurses and stop the cuts to community training places."
Kathryn Yates, RCN Professional Lead for Primary and Community Care, added: "The work of district nurses in the community plays a crucial role in reducing and avoiding hospital admissions and supporting timely discharge.
"Sufficient resources must be found to maintain an expert district nursing workforce that is fit for the future, and it must include 'all community' nursing teams led by nurses with a specialist practice qualification in district nursing.
"Alarmingly, however, total district nurse numbers continue to fall. Stronger career frameworks for district nursing must be also be established to address this trend."