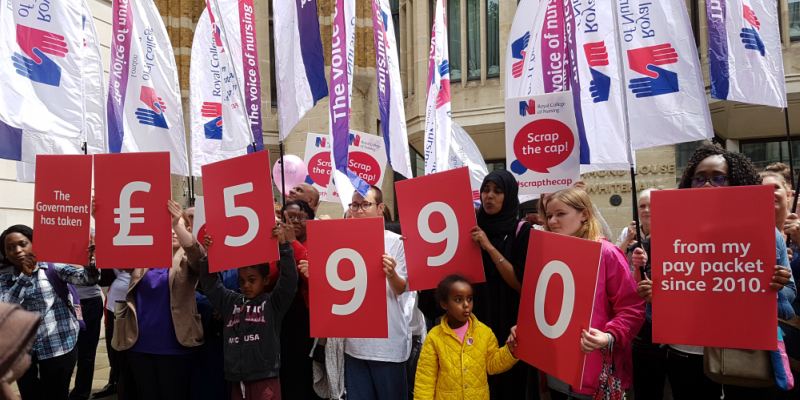 Over 100 members gathered outside Jeremy Hunt's office and demanded that the government 'scrap the cap' and give nurses a fair pay rise.
Regional Director Bernell Bussue, London Board Chair Cynthia Davis, Head of Employment Relations Josie Irwin and author and journalist Owen Jones addressed the crowd in a series of passionate speeches.
The protest featured across national and local media including the BBC, Sky News, ITV, the Daily Mirror, the Independent, the Guardian and the Huffington Post.
RCN London Regional Director Bernell Bussue, said: "Our demonstration at the Department of health not only marked the beginning of our summer of protest, but also the point at which nursing staff in London and across the country made clear to Jeremy Hunt and the government that they mean business.
"The government enforced pay cap has handed nursing staff real-terms pay cuts for seven years in a row. This has driven nurses out of London and out of the profession altogether. This means more understaffed wards and overstretched staff, both of which are a threat to safe patient care.
"In London, we will be lobbying the government and protesting against this unfair cap throughout the summer. It is unacceptable to deliver declining wages to nurses whilst they work harder than ever on the wards and it is unacceptable to endanger patient care."