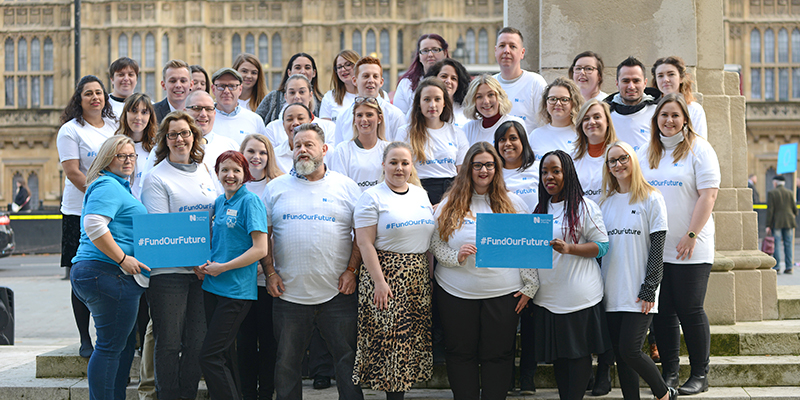 Health Minister Stephen Hammond MP has pledged to work with the RCN on its proposals to improve funding for higher nurse education.
He was responding to points raised in a Westminster Hall debate led by Wolverhampton South West MP Eleanor Smith, a nurse by background.
Eleanor has been working closely with the RCN on its Fund Our Future campaign, which calls for £1bn to be invested in student nurse funding. The College wants to see this included in the long-term plan for NHS England, which is expected in early December.
Responding directly to these calls, Mr Hammond said workforce planning will be addressed in a specific chapter of the long-term plan.
He committed to consulting on the detailed proposals the RCN has put forward on the future funding of nursing higher education and said he would work with the College to take the proposals forward.
They include costed measures such as a maintenance grant for all nursing students and practical support for tuition, including bringing back the bursary or introducing forgivable loans. In this second option, loans would be paid back by the Government in return for nursing service.
Acting RCN Chief Executive Dame Donna Kinnair said: "Student nurses brought the argument to Westminster today, meeting MPs and ministers to share the experiences of hardship and hard work that make them unique.
"The Government has heard the call – today in the house new Health Minister Stephen Hammond committed to ensure funding support for the future supply of nurses as part of the ten-year plan for the NHS.
"Mr Hammond also committed to consider the funding proposals set out by the RCN, and work with the College to address the fall in student numbers and the 41,000 nurse vacancies that are crippling our health care system."
RCN student members attended a lobby of parliament ahead of the debate to explain in person to MPs what impact financial hardship is having on them.
Adaeze Bowen said: "Since the bursary was scrapped, not only have student nurse numbers visibly dwindled, the drop in morale and motivation on the wards has also been evident. I came here today to speak out for the future of student nurses. We're not simply students, but nurses in training and we deserve to be valued by having our funding protected.
"Nurses, both student and qualified, deal with stressful, challenging situations on a daily basis. We have to confront death, aggression, emotional distress and long, physically demanding work hours – and then go home and look after our children, pay our bills and keep a roof over our heads with no income.

"If you add to this the prospect of being saddled with a huge debt at the end of our studies, and the fact that progression to a decent salary is notoriously difficult, especially if you're from an ethnic minority background, then it's no wonder that fewer people are applying to train as nurses."