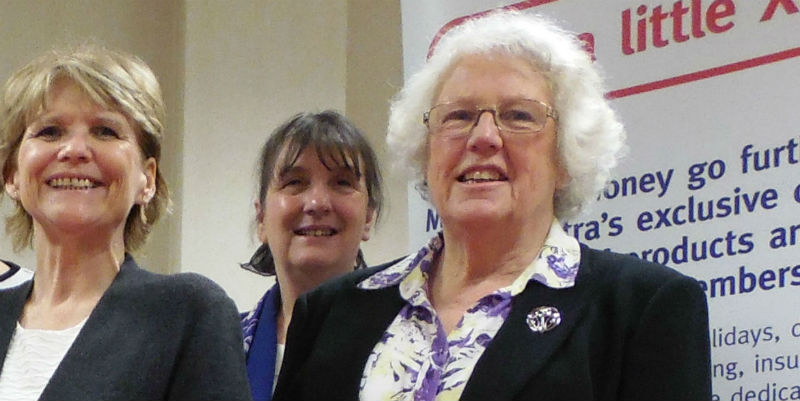 Jackie Burns (pictured right) had a nursing career that stretched four decades. She's still actively involved in nursing and is chair of the re-laucnhed RCN North West Retired Nurses' Network.
Where do you work as a nurse? I was a nurse for 40 years and worked in many places: Christie surgical theatre, ward sister (gynae) at Withington, night sister and then a practice nurse for 27 years at Barlow Medical Centre, Didsbury, Manchester.
What made you decide to go into nursing? I went into nursing as a cadet as it seemed an exciting thing to do.
What qualities do you think a nurse needs? Patience, intelligence, empathy, and good people skills.
What do you think is the role of a nurse? It's difficult to define as nurses have so many different roles, but basically to help patients in any way possible.
What is your favourite/most challenging part of your job? It was challenging in the 1970s to transfer from hospital to community care, where I was one of the first practice nurses employed. There was little job description and much more autonomy. As the role developed over the years it was difficult to access suitable training and be recognised as a specialist.
Can you describe your working day? The morning started by answering the phone and triaging visit requests. Then a 'clinic' for both ongoing patients (dressings, travel vaccinations, counselling) and anyone who needed help that day (tetanus injections and wound dressings, childhood ailments,etc). Really a very varied and interesting mixture.The list is endless! Then later there were asthma and diabetic clinics, health promotion and baby clinics, all of which could be interrupted at any time for an emergency needing an ECG.
Why do you think it's important for nurses to be RCN members? Most nurses first join the RCN for professional indemnity, and whilst this is very important there is so much more on offer. Lobbying for better conditions for nurses and nursing, training courses and peer support and professional groups, readily available advice and much more. The website is a great source of information, as is the library.
What might we not know about nursing but would be interested to hear? Now, as a retired nurse, I'm still able to be involved and keep in touch with nursing issues through emails and news updates.The retired nurse membership is currently being expanded and regional groups being developed. We are active in the National Pensioners Convention and our influence is being used to the advantage of both patients, current nursing staff and past nurses.