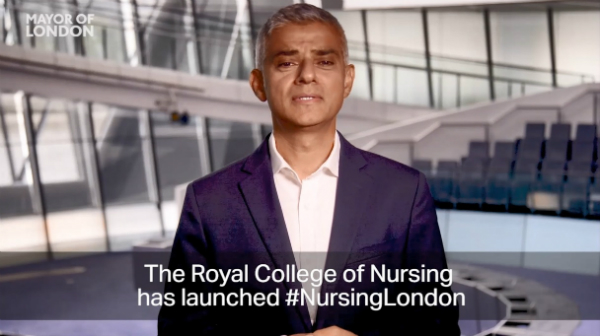 The campaign was launched in the summer in a bid to attract the nurses of the future to the city and to challenge the climate of negativity surrounding nursing and health care.
The Mayor's intervention comes after the latest NHS vacancy figures put London's empty nursing posts at a record 7,941, the highest in England.
In the video the Mayor says nurses make a 'massive difference to those closes to us' and that nursing is a 'massively rewarding career'.
Running across social media, the #NursingLondon campaign is supported by NHS England and CapitalNurse and has seen RCN London profile nursing staff across a range of health and care settings and share the personal and moving stories that motivated people to choose nursing as a career. Trusts across the capital have used the campaign to demonstrate the range of career opportunities and health settings open to nursing staff in London.
With the latest national UCAS figures showing applications to study nursing falling 16 per cent since student funding was removed in 2016, RCN London is hoping the campaign - and the intervention from the Mayor - will help inspire people to take up nursing in the capital.
RCN London Operational Manager Mark Farmer, said:
Nursing staff are the lifeblood of every city, and that is no different in London where state of the art facilities allow them to deliver world-class care in one of the most diverse and exciting cities in the world.
'Unfortunately there remains a shortage of nursing staff in London due to a failure to recruit and retain enough nurses and a climate of negativity created by austerity. These issues must not be allowed to overshadow what an incredible career nursing is and what a fantastic city London is to be a nurse.
'RCN London is proud to have the support of the Mayor of London who has sent a clear message to the nurses of the future that London is open.'
Find out more about #NursingLondon here.