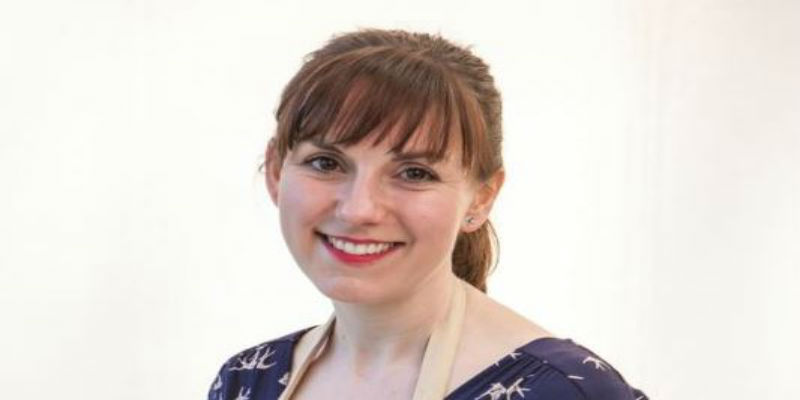 Sadly Kate, who works at the Norfolk and Norwich University Hospital, left the show during a very tricky series of "batter week" challenges. RCN Eastern spoke to Kate about her Bake-Off journey, how she juggled filming and practising around her nursing commitments and how the experience has helped her in her work.
Well done Kate for making it onto the Bake Off show. What made you want to take part in the first place?
I had been encouraged to apply to be on the Great British Bake Off by my friends, family, colleagues and even some of my regular patients for a long time. My own children, as well as their friends and my Brownies, would have been disappointed if I'd gone another year without applying. Being a nurse and seeing that sometimes the worst can happen makes me feel that it's important not to put off the joys of life until later and this was one of the catalysts for me actually applying in the first place.
Everyone was so excited when I said I'd actually applied but really the person I did this for the most was me. I love to bake and I rarely do anything that's for me and the thought of having the opportunity to spend uninterrupted time baking and developing my skills really excited me. It felt terribly self-indulgent but my friend Rachel reminded me that enjoying yourself is the easy method to give enjoyment to others and sharing in my delight at being part of the Great British Bake Off has bought happiness to those close to me.
What did your colleagues think when you told them you were doing the show?
I had to keep it secret from almost everyone at work that I was going to be on the show which was hard because I'm inherently honest, but it was great when it was finally released in the Press that I was a contestant and everyone was so excited.
You have to do a huge amount of recipe development and practising of your bakes but I had to stop taking in what I had made because I didn't want to arouse my colleagues suspicions as some of them knew I had applied. It was lovely when I could start sharing my bakes with them; there were a lot of requests for Viennese whirls!
What was the most nerve-wracking moment on the show? Did your background as a nurse, and dealing with stressful situations, help you cope with things in the Bake-Off tent?
Nothing compares to the anticipation of having a baby, but the nervous excitement I felt walking into the tent on that first morning was certainly similar! Arriving to compete in the very first challenge was definitely the most nerve-wracking moment.
As a nurse you do find yourself in challenging situations but it's a very different environment to the Bake Off tent. What being a nurse helped with was keeping everything in perspective, even if I was feeling stressed I tried to remember that although competing on the show was important to me at the end of the day it was just baking and television and nothing compared to what I have seen some of my patients and their families go through.
It looked like all the bakers got on really well. Did you have a good rapport and are you all staying in touch? Who did you get on with best?
As a group of 12 very different individuals with a shared passion for baking we immediately became friends. Every single baker was genuinely lovely and I bonded with all of them. We became so close and supportive of each other that it was easy to forget that it was really meant to be a competition. We have all kept in touch. We message and call each other every day. It was a unique shared experience that will link us forever and I can't wait to see what everybody does next.
The baker I had the most in common with was Tom. He is more experimental than me but we both have a love of the natural world and enjoy foraging for free and seasonal food. My husband and I have taken our girls to visit him and I think he must be the only person they would willingly eat spicy butternut squash and walnut soup for.
What was your greatest achievement in the contest? What were you most proud of?
For me the greatest achievement was getting on the show in the first place as there were tens of thousands of applicants. I wanted to show my children that it is possible to follow your dreams and not to be afraid of failure. Although lots of people were encouraging there were also those who said it wasn't worth the effort because there are so many applicants that I didn't stand a chance. I sought to prove to Lucy and Rebecca that no matter what the odds are that if you really want to do something it's worth having a go and that's what my Bake Off experience has done. Making my girls proud is what I'm most proud of! The bake I was most pleased with was my plaited Cornmaiden loaf. It was a truly personal creation baked from ingredients grown and produced by family and friends. It really felt like I was serving up a slice of myself for judging and I was thrilled when Paul and Mary both loved it.
Was it difficult fitting the Bake-Off filming around work and family commitments?
Fitting not only filming but all the preparations and practice that goes with it into normal life was the hardest thing. I didn't think I could crowbar anything else into my already packed life but somehow I managed. I won't deny it there were times where I felt like I was on my knees and there were days where I just didn't go to bed but I was determined not to give up. Without the support of my family and closest friends it wouldn't have been possible and I am so grateful to them.
I've nursed in the same department, respiratory medicine, since I qualified in 2001 so a lot of the people I work with I've been friends with for most of my adult life, including our ward sister Karen Hall. I was a bit worried that she might laugh at my "pie in the sky" idea of applying for Bake Off but she was genuinely supportive both professionally in helping me work my shifts around filming and personally as my friend.
Are people at work expecting you to bring in extra baking for them? Did you get recognised more at the hospital once bake-off went on air?
I had to keep the fact that I was a contestant on the Bake Off secret for months. I stopped taking in my baking as some of my colleagues were becoming suspicious so once it was released in the Press it was great to be able to share some of the things I made with them. Staff, patients and their relatives have recognised me since being on the show. I have to allow a bit of extra time when I'm doing anything at work as lots of people want to chat about my baking adventure. Some of our regular patients who I have known a long time have bought their children and grandchildren up to the ward especially to meet me which is really flattering and on the nights that the show aired it was strange to see lots of the patients tuning in their bedside sets to watch me.
Have you learnt anything from the Bake Off experience which will help you in your work?
I'm sure some of my colleagues would tell you that time management is the thing that I struggle the most with. I was invariably the nurse at the end of the shift that ended up staying late because I couldn't bear to leave until I felt I had done my job properly. However since doing the show my time management has improved enormously and I've even been managing to leave off on time!
Any regrets, or would you do it all again? Will you be avidly watching the show next year?
No regrets and yes I would love to do it again.
Being in the tent is a bit like your wedding day. You spend so long looking forward to it and planning it and when the actual event arrives you want to savour and enjoy every glorious moment of it. However the time goes so quickly and before you know it, it's all over. I don't want this experience to end - baking was already a huge part of who I am but I am now in love with it even more than I ever believed possible. I bake at any time of day, at every opportunity and I will continue to do so after Bake Off. I will continue to bake to feed my family as above all else I am a mum and I will also continue to bake because it makes me happy. But what being part of the Great British Bake Off has made me realise is how much I want to share this happiness and inspire other people to have a go at baking whether it's cooking Damper bread on a stick over a campfire outside or beautiful sugar work so I will be pursuing every opportunity to do this with a wider audience wherever possible. I have no plans to leave my job as a nurse.
I'm looking forward to watching the next batch of bakers and welcoming them into the family that is Bake Off.