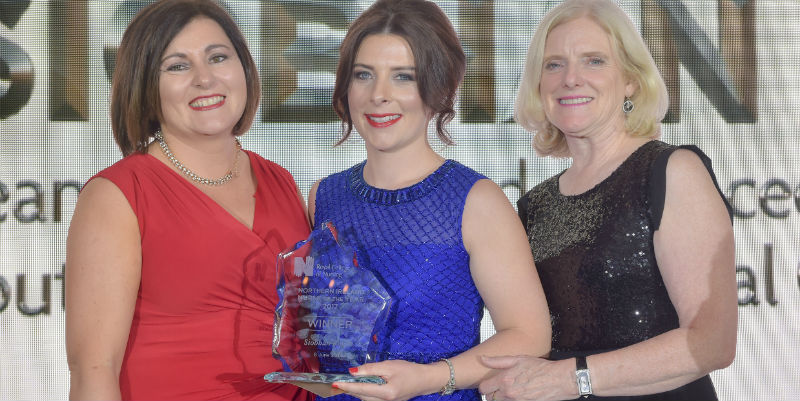 Siobhan Rogan from Sixmilecross, near Omagh, was celebrating tonight, Thursday 8 June, when she won the RCN Northern Ireland Nurse of the Year Award 2017.
Siobhan, who works in the Southern Trust, was nominated for her leading role in establishing Northern Ireland's first community-based fully integrated child and adolescent mental health service (CAMHS) for young people with intellectual disability.
These young people have high rates of complex mental health and behavioural difficulties and are often unable to access comprehensive, specialist services. Siobhan established specialist teams within CAMHS, providing early intervention and assessment.
Her nominator describes Siobhan as "an outstanding leader and brilliant colleague who is changing the face of services for children with intellectual disability in Northern Ireland" while the judging panel was impressed by her emphasis on the rights of the child and how she promotes services locally so that children do not have to travel outside Northern Ireland.
A parent of one child said: "The help we got here has not only saved his life, it has saved my life".
Runner-up on the evening was Fiona Barnes. A nurse practitioner in the South Eastern Trust, Fiona has been instrumental in the development of innovative services for patients with borderline personality disorders.
An award to celebrate outstanding achievement in nursing, sponsored by the Northern Ireland Practice and Education Council [NIPEC] was presented to Professor Tanya McCance for her exceptional contribution to nursing research and, in particular, person-centred nursing practice.
Commenting on the awards, RCN Northern Ireland Director Janice Smyth said: "Siobhan Rogan is working with some of the most vulnerable children in our society and has made a huge improvement in how they are treated and cared for. This service provides innovative early intervention to promote better long-term outcomes.
"This is the 21st year of the RCN Northern Ireland Nurse of the Year Awards, which have highlighted some of the best examples of nursing practice. Despite the challenges nursing and the wider health service continue to face, it is important to recognise and value the excellent care nurses provide to the people of Northern Ireland.
"Nurses are constantly developing their practice and reforming and modernising services to meet the needs of patients. I am extremely encouraged by the excellence and innovation shown by our finalists who are a credit to the nursing profession."
RCN Northern Ireland Nurse of the Year Award
Winner
Siobhan Rogan
Team manager and advanced practitioner
Southern Health and Social Care Trust
Runner-up
Fiona Barnes
Nurse practitioner, dialectical behavioural therapy service
South Eastern Health and Social Care Trust
Commended
Alana Irvine
Regional manager
Four Seasons Health Care
Commended
Paul Carroll
Team manager, adult psychological therapy services
Western Health and Social Care Trust
Team Manager Award sponsored by LV
Winner
Orla Mathews
Ward sister, Antrim Area Hospital
Northern Health and Social Care Trust
Runner-up
Caroline Malone
Ward sister, Musgrave Park Hospital
Belfast Health and Social Care Trust
Health Care Support Worker Award, sponsored by the HSC Board and Public Health Agency
Winner
Ciarán McGowan
Care assistant supervisor
Park Manor Nursing Home, Belfast
Runner-up
Ann Gregg
Health care support worker, Antrim Area Hospital
Northern Health and Social Care Trust
Learning Disability Award sponsored by Priory Adult Care
Winner
Sarah McCann
Epilepsy nurse specialist
Northern Health and Social Care Trust
Runner-up
Hazel McMullan
House manager, Bohill Bungalows
Priory Adult Care
Chief Nursing Officer's Award
Winner
Gerry Bradley
Planning and performance: project co-ordinator
Unscheduled and Acute Care Directorate, Belfast Health and Social Care Trust
Runner-up
Yvonne Diamond and Sheree Quinn
Service Manager and House Manager, Dunluce House
Priory Adult Care
Student Award sponsored by Queen's University, Belfast
Winner
Ruth Haire
The Queen's University of Belfast
Runner-up
Chris Maguire
The Queen's University of Belfast
Nursing Research Award sponsored by the Ulster University
Winner
Neal Cook
Ulster University
Runner-up
Gary Mitchell
Four Seasons Health Care
Learning in Practice Award sponsored by the Open University
Winner
Sarah Penney
Research and Teaching Fellow
Ulster University
Runner-up
Conor McDowell
Charge nurse, Royal Victoria Hospital
Belfast Health and Social Care Trust
Inspiring Excellence Award in mental health and learning disability sponsored by Inspire
Winner
Paul McAleer
Forensic practitioner
Northern Health and Social Care Trust
Runner-up
Claire Maguire
Complex behaviour nurse
Western Health and Social Care Trust
Cancer Nurse Award, Sponsored by Cancer Focus and Macmillan Cancer Support
Joint Winner
Renée Reid
Clinical nurse specialist
Belfast Health and Social Care Trust
Sally Convery
Macmillan lung cancer specialist nurse
Northern Health and Social Care Trust
Runner-up
Caitlin McCoy
Macmillan acute oncology clinical nurse specialist
South Eastern Health and Social Care Trust
Defence Nursing Reservist Award, sponsored by Defence Medical Services
Winner
Lieutenant Colonel Joy McGrath
204 (North Irish) Field Hospital (Army Reserve)
Joint Runners-up
Major Gina Dickson
204 (North Irish) Field Hospital (Army Reserve)
Major Angela Dolan-Gregg
204 (North Irish) Field Hospital (Army Reserve)
Leadership Award, sponsored by Roberta Brownlee and Silverdale Care Home
Winner
Sharon Love
Falls injury prevention nurse
Northern Health and Social Care Trust
Runner-up
Claire Black
Nurse manager
Park Manor Nursing Home, Belfast
Patient's Choice Award, sponsored by the Patient and Client Council
Winner
Gaby Jivan
Staff nurse
Park Manor Nursing Home, Belfast
Runner-up
Shauneen Breen
Staff nurse, South West Acute Hospital
Western Health and Social Care Trust
Outstanding Achievement Award sponsored by NIPEC
Winner
Professor Tanya McCance