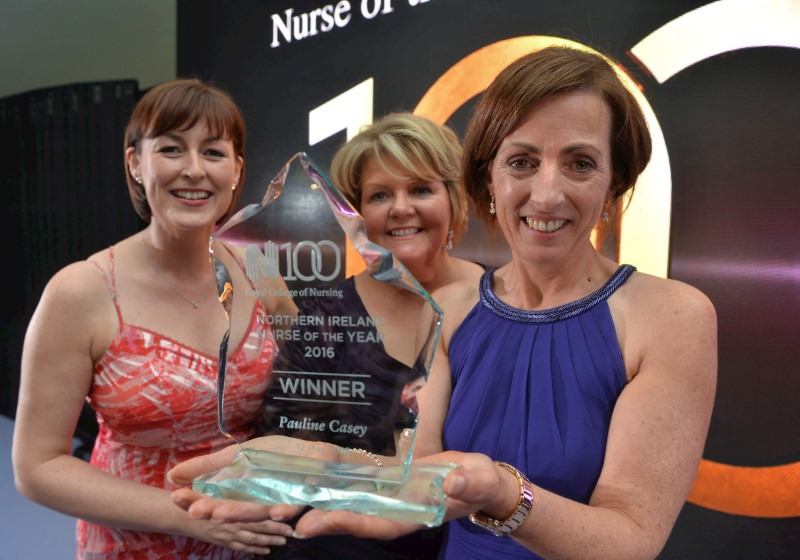 Pauline Casey from Donemana in County Tyrone has won the title of RCN Northern Ireland Nurse of the Year 2016. Pauline was presented with the award on Thursday 12 May 2016 at a special ceremony held at Hillsborough Castle which also celebrated the RCN's centenary.
Lead nurse for older people's mental health at the Western Health and Social Care Trust, Pauline fought off competition from three other finalists to receive the award for leading a challenging redesign of services to ensure that people with dementia are assessed and treated in a dementia-designed unit or in their own homes and communities.
Over three years, Pauline reduced in-patient treatment from 84 days to just nine days, has developed two dementia-specific assessment centres and established a therapeutic hub at each hospital in the trust to assess, treat and diagnose complex patients. Within a year, Pauline achieved a 50% reduction in falls, a 90% reduction in challenging behaviour with other patients and a 94% improvement in the attendance rate for nurse-led outpatient reviews.
The judging panel was impressed by Pauline's leadership and how she demonstrated that nurses can lead the way in enhancing patient care and implementing the Transforming your Care reform process to ensure that patients are cared for, where appropriate, in their own homes and communities rather than in hospitals.
Runners-up on the evening were Sarah Arthur and Marysia Graffin, district nurses with the Northern Health and Social Care Trust, who significantly improved efficiency and care for patients. Margaret Kerr, from Randalstown, won the Practice Nurse Award for her contribution to services at Antrim Health Centre over the past 26 years. Margaret was presented with her award by Valerie Watts, Chief Executive of the Health and Social Care Board, which sponsored the award.
An award to celebrate outstanding achievement in nursing, sponsored by the Northern Ireland Practice and Education Council [NIPEC] was presented to Robert Sowney. Robert is an expert in emergency care and was the first nurse consultant in Northern Ireland. He is also chair of the RCN Foundation.
The Cancer Nurse Award, sponsored by Cancer Focus and Macmillan Cancer Support, was presented to Kirsty McKay from Ballygally. A Macmillan nurse in the Northern Health and Social Care Trust, Kirsty has improved after-care for men diagnosed with prostate cancer.
Presented by Roberta Brownlee, Pat McClelland from Ballymoney won the new leadership award. Pat manages cancer services in the Northern Health and Social Care Trust and won the award for her leadership in transforming services. Her nominator said: "Pat's dedication to her work and support of staff is exemplary. She is selfless in her pursuit of providing a service of excellence for people living with cancer."
The diverse nature of nursing was highlighted through the new Defence Nursing Reservist Award, won by Gaby Smyth. Gaby, who was nursing officer in charge of the field hospital emergency department while serving in Afghanistan, has also developed and organised an education programme for nursing staff and health care assistants to prepare for deployment. Gaby was described as: "a truly dedicated and inspiring officer who has taken every opportunity to develop herself and others through training and education".
Commenting on the awards, RCN Northern Ireland Director Janice Smyth said: "Older people are among the most vulnerable in society, particularly those with dementia. Pauline Casey has made an outstanding contribution to improving care for these patients. This is the twentieth year of the Northern Ireland Nurse of the Year Awards, which have highlighted some of the best examples of nursing practice. Despite the challenges nursing and the wider health service has faced in recent times, it is important to recognise and value the excellent care nurses provide to the people of Northern Ireland.
"In this centenary year for the RCN, we are celebrating the development of the nursing profession during the last 100 years, not least the contribution nurses made during events such as both world wars and the years of conflict in Northern Ireland. Nurses have cared for patients through some of the most challenging and difficult times. We may face new types of challenges now, but what hasn't changed is that nurses still put patients at the centre of health care."

RCN Northern Ireland Nurse of the Year Award
Winner

Pauline Casey

Head of service/lead nurse for older people's mental health

Western Health and Social Care Trust
Runner-up

Sarah Arthur, district nurse

Marysia Graffin, district nurse sister

Northern Health and Social Care Trust
Commended

Hilary Maguire

Clinical services manager, Northern Ireland Hospice

Anne O'Reilly

Transitions nurse specialist, Northern Ireland Children's Hospice
Fionnuala Gallagher

Tissue viability nurse

South Eastern Health and Social Care Trust

Team Manager Award, sponsored by ABPI
Winner

Judith Mulligan

Ward manager

Southern Health and Social Care Trust
Runner-up

Brenda Rushe

Registered home manager

Weavers House Care Home, Cookstown

Health Care Support Worker Award, sponsored by Craegmoor
Winner

Ann Cusack

Health care assistant

Belfast Health and Social Care Trust
Runner-up

Mark McGeachy

Health care assistant

Rose Martha Court Care Home, Ballymena

Public Health Award, sponsored by the Public Health Agency
Winner

Jane Ferguson

Hearty Lives Craigavon health co-ordinator

Southern Health and Social Care Trust
Runner-up

David Olphert

Bereaved by Suicide liaison officer

Northern Health and Social Care Trust

Chief Nursing Officer's Award
Winner

Mary McElroy

Lead nurse for patient safety, quality and experience

Public Health Agency
Runner-up

Brian McFetridge, Critical Care Network lead nurse and nurse consultant, critical care, Western Health and Social Care Trust

Linda Mulholland, Critical Care Network manager

Student Award, sponsored by the Queen's University of Belfast
Winner

David Ferran

The Open University
Runners-up

Andrina Spence

Ulster University
Lisa Perry

The Queen's University of Belfast

Nursing Research Award sponsored by Ulster University
Winner

Toni McAloon

Ulster University
Runner-up

Helen Kerr

The Queen's University of Belfast

Learning in Practice Award, sponsored by The Open University
Winner
Lillian McClelland

Staff nurse

Northern Health and Social Care Trust
Runner-up

Lorraine Crymble, interim lead nurse infection control

Jean Gilmour, infection prevention and control nurse

Northern Health and Social Care Trust

Inspiring Excellence in Mental Health and Learning Disability Award, sponsored by Niamh
Winner

Lorraine Kirkpatrick

Regional manager

Four Seasons Health Care
Runner-up

Michael Rooney

Charge nurse

Belfast Health and Social Care Trust

Practice Nurse Award, sponsored by the Health and Social Care Board
Winner

Margaret Kerr

Practice nurse

Antrim Health Centre
Runner-up

Dorothy Cairns

Nurse practitioner

Aberfoyle Medical Practice, Derry-Londonderry

Cancer Nurse Award, sponsored by Cancer Focus and Macmillan Cancer Support
Winner

Kirsty McKay

Macmillan uro-oncology project nurse

Northern Health and Social Care Trust
Runner-up

Eimer McGeown

Breast care nurse specialist

Southern Health and Social Care Trust
Defence Nursing Reservist Award, sponsored by Defence Medical Services
Winner

Gaby Smyth

204 (North Irish) Field Hospital (Volunteers)
Runner-up
Neill Montgomery

204 (North Irish) Field Hospital (Volunteers)



Brownlee-Silverdale Leadership Award, sponsored by Roberta Brownlee and Silverdale Care Home
Winner

Pat McClelland

General manager for cancer services

Northern Health and Social Care Trust
Runner-up

Geraldine Maguire

Assistant director, specialist child health and disability

Southern Health and Social Care Trust

Patient's Choice Award, sponsored by the Patient and Client Council
Winner

Melissa Steele

Staff nurse

Belfast Health and Social Care Trust
Runner-up

David Moore

Respiratory nurse specialist

Belfast Health and Social Care Trust

Outstanding Achievement Award, sponsored by NIPEC
Robert Sowney