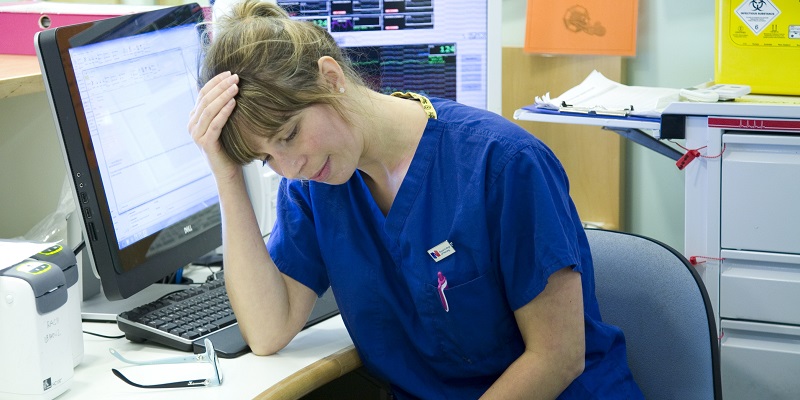 The RCN has warned the Government not to exploit the goodwill of nursing staff, saying they are already working at full capacity due to unprecedented demand on the NHS and persistent staff shortages.
The College has recently succeeded in campaigning for the Government to lift the one per cent cap on NHS pay awards under which the value of nurses' pay has fallen by 14 per cent in real terms since 2010.
But the RCN says nurses deserve a long-overdue fair pay deal in 2018/19 – and they must not be subjected to even more pressure to earn it.
Mike Adams, Regional Director of the RCN in the West Midlands, said: "The Government talks about linking pay to productivity gains, but how much more productive can NHS nursing staff be when so many of them are already working extra hours without pay, already working through their breaks and already staying on after their shift was supposed to end, because they put their patients' needs before their own?
'Grind to a halt'
"The health service would grind to a halt without the capacity generated by staff working those extra hours or soldiering on when they don't actually feel well enough to work. The Government's commitment to fund a pay rise is welcome but it's unfair for them to suggest staff somehow need to do even more to deserve it."
The most recent NHS staff survey shows that more than half of staff at every hospital and health trust in the West Midlands work unpaid extra hours each week. At Birmingham Women's and Children's NHS Foundation Trust, Sandwell and West Birmingham Hospitals NHS Trust and Birmingham Community Healthcare NHS Foundation Trust, the proportion is 65%.
The survey also found that in some trusts as many as two-thirds of staff had gone to work recently despite not feeling well enough to perform their duties.
The NHS Pay Review Body (PRB) is due to make a recommendation on the 2018/19 pay round next spring. Yesterday, Health Secretary Jeremy Hunt wrote to the PRB to confirm that the Government will provide additional funding for NHS staff pay awards subject to agreement with health unions about 'reforms to boost productivity'.
Take action
Take a moment to tell your MP that a fair pay award should not be linked to productivity.