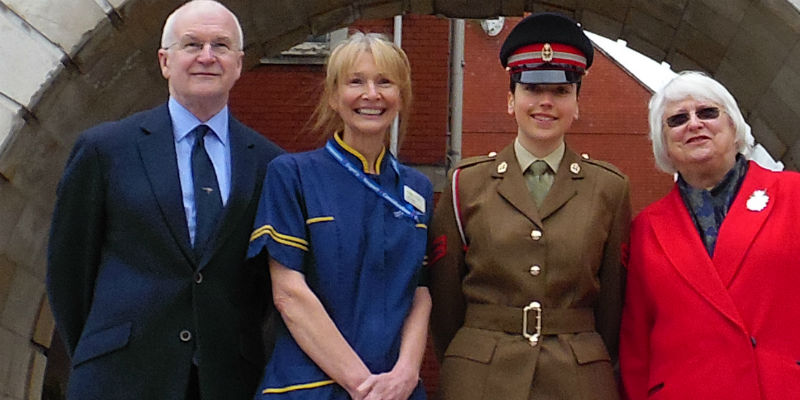 Two legends of nursing were honoured with plaques at the hospital where they served for nearly half a century.
Margaret Sparshott and Lucy Duff Grant steered nursing in Manchester between 1907 and 1955. Both women held the position of president of the Royal College of Nursing (RCN).
They made a massive contribution to the care of thousands of people from across Greater Manchester as well as helping shape the nursing profession nationally.
Margaret Sparshott was matron at Manchester Royal Infirmary from 1907 to 1929. She was succeeded by Lucy Duff Grant who served in the same role from 1929 to 1955.
Both nurses were also principal matrons of the Manchester based Military Hospitals, overseeing care for wounded military personnel from two world wars.
During the First World War a quarter of a million casualties were treated by the Manchester based Military Hospital (2nd Western General Hospital) in the towns and villages that surrounded Manchester.
The plaque dedication has come about thanks to discussions between The Manchester Royal Infirmary Nurses' Fellowship, The Royal College of Nursing North West, RCN History of Nursing Society, 207 (Manchester) Field Hospital, The Priory of St John, and Central Manchester University Hospitals NHS Foundation Trust.
Dame Betty Kershaw, former president of the RCN, said: "We are delighted to pay tribute to these extraordinary figures of Manchester nursing history. Their service spanned two world wars and another era when nursing was a very different profession.
"Antibiotics were unavailable for general use until well into the 1940s. This meant patients, including soldiers with horrific wound infections, had to be nursed through the complications of sepsis if death and deformity were to be avoided.
"These two nurses were strong women who had thousands and thousands of civilian and military patients in their care. To see their names on plaques in the heart of the city where they served is very special."
Cheryl Lenney, Chief Nurse at Central Manchester University Hospitals NHS Foundation Trust added: "We are proud to honour the contribution and service of these great nurse leaders in Manchester.
"As nurses we can only hope that we do justice to their legacy and follow in their footsteps; serving the people of Manchester and beyond."