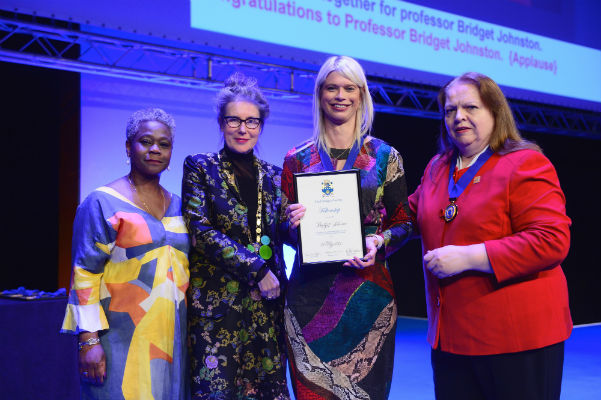 An internationally-renowned palliative care nurse, educator and researcher in Scotland yesterday (Sunday 19 May 2019) was made a Fellow of the Royal College of Nursing.
Professor Bridget Johnston is a Florence Nightingale Foundation Clinical Professor. She is currently undertaking a joint clinical academic post between the University of Glasgow and NHS Greater Glasgow and Clyde, and is the nurse representative on the Scottish Government's National Implementation and Action Group for Palliative Care.
Theresa Fyffe, RCN Scotland Director, said:
"This is thoroughly well-deserved recognition for a nurse who innovative approach to her field has helped to raise standards of education and produced high quality research which has had direct benefit for patients.
"Her commitment to collaboration and compassion for people shine through and make her a valuable colleague to all who work with her and all who have been cared for by her."
Commenting on her award, Professor Johnston said:
"I am delighted and honoured to become a Royal College of Nursing Fellow. I am passionate about nursing and particularly improving end of life care."
Professor Johnston is one of just a few nurses in the UK trained in 'dignity therapy' which supports patients in confronting the reality of their life coming to an end. She has co-collaborated with researchers across the globe on projects to advance palliative nursing and improve the quality of life of people with advanced illnesses.