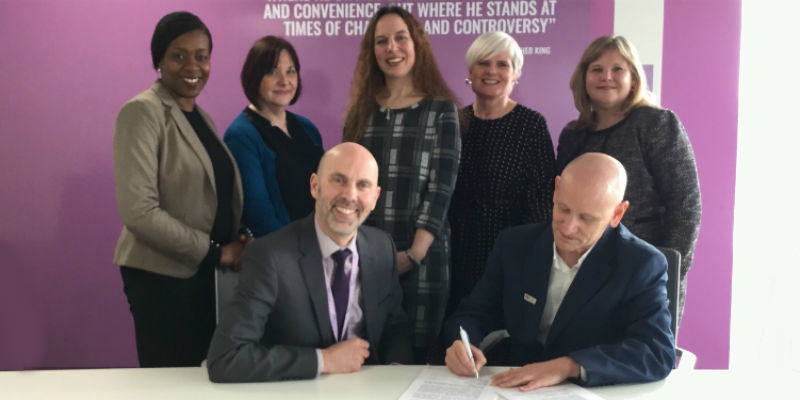 Supporting the learning and development of nursing staff has taken another step forward as the Royal College of Nursing and Interserve Healthcare sign a national Learning Agreement. The learning agreement will support the creation of RCN Learning Representative roles and offer support to RCN members and other staff working through Interserve Healthcare, both employed and agency staff. By promoting and protecting the learning and development of nursing staff the joint work between the RCN and Interserve Healthcare will ultimately benefit patient care too.
Coming at a time when the RCN recognises that many of its members work through Interserve Healthcare or other agency providers Josie Irwin, Associate Director for Employment Relations at the Royal College of Nursing, said "The RCN is pleased to form a learning partnership with Interserve Healthcare. This agreement is timely, as the RCN has a strong commitment to our members in the agency nursing sector. We very much welcome the six newly recruited RCN Learning Reps who will play a pivotal role in sharing and sign posting our members and their health care colleagues to the RCN wealth of learning resources. The RCN professional offer is designed to have a positive impact on patient care and safety."
Andy Cook, Chief Nurse at Interserve Healthcare, said "This Learning Agreement allows Interserve to demonstrate its continuing commitment to high standards of evidenced based nursing care. We are delighted to be working with the RCN and look forward to the benefits it will bring to us as a care provider, to our staff and, ultimately, the patients whose lives we support every day."
The formal signing of the agreement took place at the Interserve national offices at Waterloo, London and was signed by Andy Cook, Chief Nurse, Interserve Healthcare and Gary Kirwan, National Officer and Team Leader, Royal College of Nursing.
The RCN has already recruited members who are willing to take on the role of the Union Learning Rep. One such member, Arianne Shephard said, "Becoming a Learning Representative is an exciting opportunity to embrace a role which will enable me to help others learn, grow and develop in person and as practitioners".
Looking forward to the new role of RCN Learning Rep, Lisa Ruffell said, the role "will not only allow me to expand my own knowledge but also to be a champion for learning". Commenting further on the work of the RCN Learning Rep in promoting learning and development amongst staff Lisa said, "this will allow us all to deliver the highest standard of care to our clients".
Welcoming the development Nicola Clarkson, RCN Learning and development facilitator, said "I am really excited to be working with our new national Learning Reps at Interserve. The organisation have clearly recognised the importance of promoting life-long learning and the contribution that Learning Reps make in providing information advice and guidance."