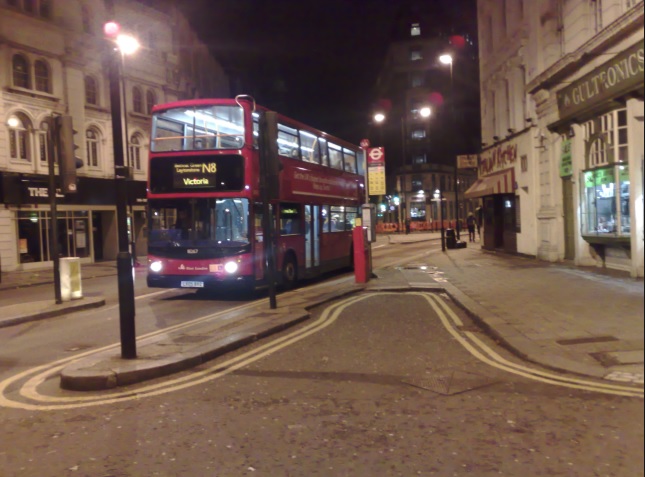 RCN London and UCL researchers are calling on the Mayor to introduce a 'Night-Rider' fare that would allow night workers to move between buses, tube, train, DLR or tram in a single fare.
The bodies are also asking for a representative from the nursing profession, as the largest staff grouping in health and care, to be given a seat on the new Late Night Transport Working Group which the Mayor confirmed would be meeting for the first time in 2019.
Researchers from the Urban Innovation and Policy Lab at University College London (UCL) and the Royal College of Nursing London region say that the night-time economy is too heavily geared towards consumers rather than the low-paid workers who keep services running after dark. The bodies say night-time policies should support those who are maintaining London 24/7, but whose work still remains invisible to most.
Despite health workers making up the majority of the 1.6 million Londoners who work at night, there was no place for a representative from the sector on the Mayor's Night Time Commission. RCN London and researchers at UCL say it is now absolutely vital that health care workers are properly represented this time with a seat at the table of the Late Night Transport Working Group.
Research by the Urban Innovation and Policy Lab highlights that 50 per cent of bus trips taken at night are journeys to and from work and that night-time workers are often working on low wages compared to day-time workers, spending a large share of their income on transport.
Those who work unsocial hours, especially during the week, are also left with reduced services, meaning nursing staff after shifts must take long and sometimes expensive journeys using different modes of transport to get to and from work.
RCN London and the research team made the demands of the Mayor as they launch 'Who makes London run after dark?', a campaign that will raise awareness of night-workers amongst the public and push policy makers into making the night-time economy more 'worker-friendly'.
Launching this weekend, campaigners will be distributing specially made leaflets - 'A night in the life of London's night-time workers' - along the Victoria line to members of the public. The leaflets tell the story of nurses who work at night in hospitals and detail their difficulties in getting to and from work during unsocial hours. Throughout the rest of the summer, campaigners will be joining commuters on night tubes and buses across the capital.
As part of the campaign the research team will be producing a series of special films that will recount the experiences of three of the capital's nurses and a junior doctor who work at night. These will be released later in the autumn as part of the London Design Festival.
RCN London say that the cost of living is making life difficult for nursing staff and preventing NHS Trusts from recruiting and retaining staff in the numbers needed to meet demand.
RCN London Regional Director Jude Diggins, said:
"London is an amazing and vibrant 24 hour city that is the envy of much of the world and night after night it is nursing staff who keep our hospitals running whilst many are out having fun.
"With nursing staff caring for the vulnerable and often dealing with the darker side of the night scene in London, investment in a 24-hour entertainment culture needs to be matched by increased investment in supporting health and other public workers to be able to afford safe and efficient transport.
"When finishing late at night or into the early hours our members tell us they will opt to take much longer trips on one mode of transport to save money, rather than the quickest and safest route which may involve taking buses, a tube and even a tram. A commitment from the Mayor to introduce a night-rider fare would allow nursing staff to switch between modes of transport for one fare.
"We also need to see the voices of health and care workers front and centre in the planning of the night-time economy, that's why we're calling for a representative from the largest staff group in the night-time economy given a seat on the Late Night Transport Working Group."
Dr Enora Robin, a UCL researcher involved in 'Who is making London run after dark campaign?' said:
"It has been very encouraging to see the Mayor think seriously about what happens in London at night and over the past year, real efforts have been made to find out more about who is making London run after dark.
"However, a lot of the interventions to date have focused on supporting the entertainment side of the Night-Time Economy, and whilst the arts and creative sector are huge contributors to London's identity and culture, it is now time to recognise that without key workers in healthcare, office cleaning, security, transport, logistics, to name only a few, London would grind to a halt.
"Issues of low-paid work, accessible and reliable transport throughout the week, and health and safety need to be fully integrated in night-time policies. Getting representatives of the health and care sector involved in shaping night-time strategies would be a first step towards the design of policies that meet the needs of London's vital workers."