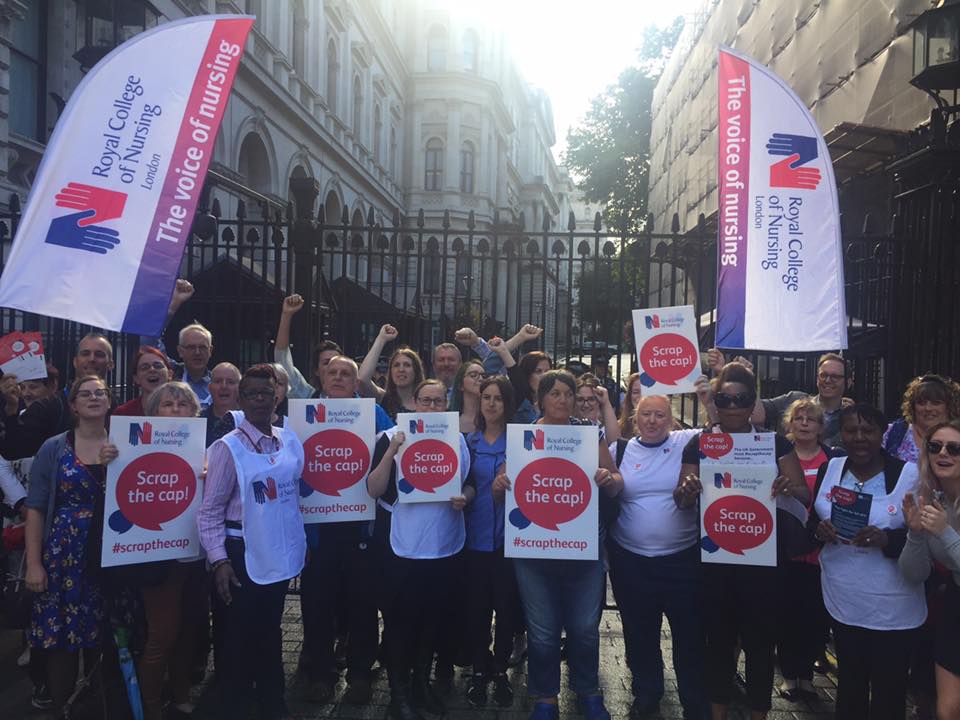 The event was attended by over 300 people from inside and outside the nursing community and featured speeches from a number of special guests.
The rally followed RCN London's demonstration outside the Department of Health in June and was another opportunity for members to send a clear message to the government that pay restraint must end.
At the rally, RCN London Board Chair Cynthia Davis and Regional Director Bernell Bussue opened proceedings alongside Carey Johnson, a specialist nurse from East London, who spoke candidly about her decision to move out of London as a result of low pay and high living costs.
British Medical Association's (BMA) London Regional Council Chair Dr Gary Marlowe later gave a passionate speech about the effects of austerity on the health service, its staff and patients and award winning actress and East Londoner Maddy Hill told those present about the care provided to her whilst a patient and fiercely criticised the government for its treatment of nursing staff.
The event culminated with a speech by RCN President Cecilia Anim in which she urged nurses to 'stand up and fight' for better pay and safe staffing.
As well as the BMA, RCN London were also supported at the event by the National Pensioners Convention and a delegation from Unite the Union.
Staff from the London Region and RCN HQ were present at the event and walked the streets handing out flyers to the general public informing them about the scrap the cap campaign.
In total, 40 events took place across the country with members featuring extensively across both regional and national media.
You can view photos from the event on our Facebook Page.
The next major event in the RCN's summer of protest will be a UK wide rally in central London on 6 September. Members can express their interest in the event and apply for support with travel funding here.