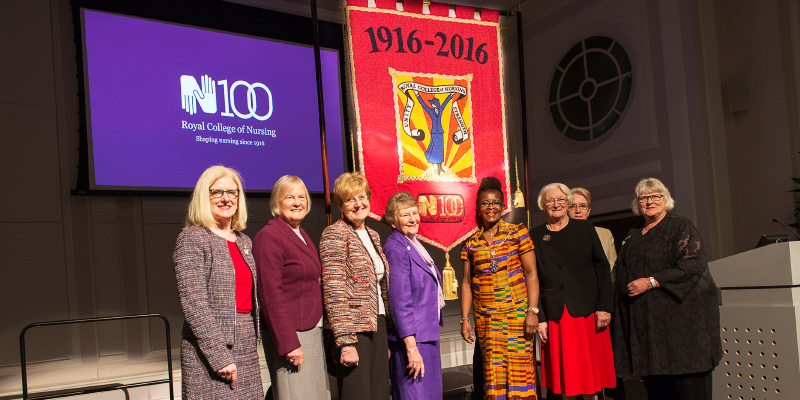 On Sunday 19 June, the London Region hosted a Welcome Event for over 230 members which featured a presentation by Diane Yarwood from London and South East History of Nursing Group on 100 years of Nursing in London which was amusing and well received. RCN London Board Chair Cynthia Davis and Regional Director Bernell Bussue both spoke about the work the RCN has been doing in the region in the past year.
The annual London Merit Award for exceptional services to members was awarded to Andy McGovern from the Inner North East London Branch. In addition Sue Lister from Royal National Orthopaedic Hospital and Johanna Doyle from Moorfields were awarded with a Long Service Award for 15 years of support to members in their roles as Accredited RCN Representatives.
Throughout the week nearly 300 London Members, many of them attending for the first time, were engaged in debating and presenting the resolutions in the hall, voting on the matters and setting the work for the RCN on a range of issues including lobbying the government on
student bursaries
,
housing costs
and investing in services to promote the emotional well-being and positive
mental health of our children and young people.
RCN Inner North East London Branch proposed a debate calling for improved training for nurses treating patients with
sickle cell disease
, and described a poor level of awareness and knowledge in A&E units about the potentially fatal disease.
Branch Secretary Carey Johnson, who works as a Sickle cell adult specialist nurse introduced the item, saying: "There are some really good specialist services in pockets around the country, but too many people have to rely on general hospitals and A&E, where there is a very poor level of awareness." Carey also spoke about the issue on the
BBC News
.
A number of London members contributed to the resolution on
safe staffing
. Outer South West London Branch Chair Michael Smith introduced the resolution in his role on the UK Stewards' Committee, and expressed his concerns at the suspension of NICE's safe staffing work.
The final debate of the week looked at
housing support
for nursing staff, and RCN Council Member for London Matthew Hodson spoke about the recent work which the RCN London Board have been doing to identify ways to help.
In addition there were a number of inspirational speakers. Nicola Sturgeon, First Minister of Scotland, spoke with much passion on what her vision is for Scotland, Former President of the American Nurses Association, Rebecca Patton spoke about getting political to fight for patients and their part in getting 'Obamacare' in place. The final speaker was Dementia care campaigner Tommy Whitelaw who spoke about caring for his beautiful Mum who had Dementia and the challenges in getting help. All three speakers were inspirational and can be viewed by clicking on the links below:
Nicola Sturgeon
Rebecca Patton
Tommy Whitelaw
Congress is also about professional development and members were able to attend seminars on a wide range of subjects from 'the role of health care support workers in the nursing team' to 'understanding multiple sclerosis'. These sessions are invaluable for NMC revalidation and contribute to learning and reflection. The Exhibition also offers opportunities to learn about new products and the different faces of Nursing across the UK and beyond.
Sue Tarr said: "It is always an inspiring event and spending time with Nurses who are as passionate as I am about our profession and the care we provide to our patients is humbling, invigorating and amazing. RCN London members were speaking with passion about the fantastic work they are doing to care for and ensure their patients receive the help and support they need across all areas of nursing in times of austerity and staff shortages. Their commitment to their work is incredible and was clearly articulate on the Congress stage for all to see. I am proud that I was able to be part of this."
All the debates from Congress can still be seen online at
www.rcn.org.uk/congress
To view photos from the event, please take a look at our
Facebook gallery
.
For further information about the work of RCN London please visit
www.rcn.org.uk/london