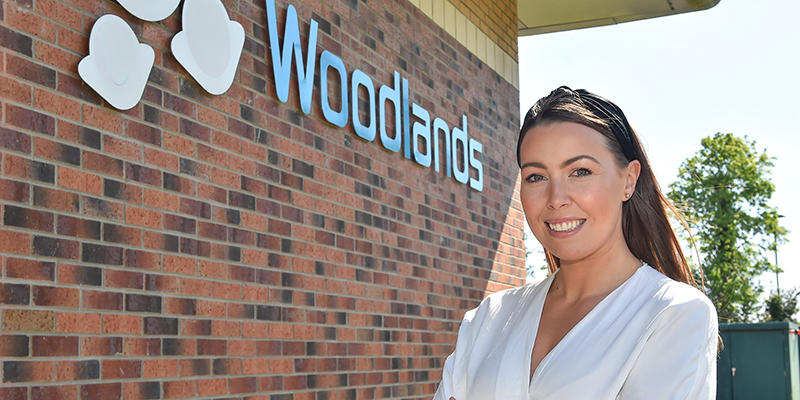 Emma McKinney, a specialist nurse practitioner working in child and adolescent mental health services (CAMHS) in the South Eastern Trust, was celebrating last night, Thursday 6 June, when she won the RCN Northern Ireland Nurse of the Year Award 2019.
Emma, who is based at Woodlands Juvenile Justice Centre in Bangor, works with young people within the criminal justice system who can often experience difficulties accessing community mental health services, despite the fact that they can experience extensive problems such as drug and alcohol misuse, homelessness and abuse.
Emma was nominated for her role in implementing a protocol for supporting the transfer of care between Woodlands and community CAMHS teams in the five HSC trusts. This protocol has resolved issues including inadequate discharge planning and inconsistencies in service provision. Most importantly, 100% of young people who accessed the service prior to leaving Woodlands are now able to receive care and support from their local trust CAMHS team.
Emma's nominator says: "Through her unwavering, effortless, style and enthusiastic practice, she not only seeks to improve the continued mental health provision for these young people, but she has also built close working relationships, peer support and mutual respect for those involved in this process". The mother of one young person told Emma: "You're the first person that listened to my son".
Runner-up on the evening was Colette Johnston from Toomebridge, specialist community public health nurse, based in the Northern Trust. Colette is leading the Transforming School Nursing project in the Northern Trust, which aims to integrate school nursing with community public health nursing to meet the needs of pupils.
Colette has engaged with local child and adolescent mental health services, social work teams and LGBT services to provide a framework for identifying and assessing emotional and mental health.
The judging panel commended Colette for overcoming difficulties in working across both health and education sectors and, through direct engagement with pupils, developing a service that not only meets their needs but has been shaped by them.
The Patient's Choice Award, sponsored by the Patient and Client Council, was won by Terry McVeigh from Coleraine. Terry is a Macmillan clinical nurse in Causeway Hospital, Coleraine. The wife of a patient said: "No words can adequately express thanks to you for the attention and care that you provided to my husband, always over and above the call of duty."
Commenting on the awards, Director of the RCN in Northern Ireland, Pat Cullen, said: "Emma McKinney's determination to secure equality of access to services has made a huge difference to a vulnerable group of young people who rely upon them. Thanks to Emma, young people leaving custody can now receive care and support from their local trust CAMHS team, ensuring that there is continuity of care and that they receive the help they need. The impact this can have upon their future cannot be underestimated.
"The problems confronting our health and social care services are well-documented. However, we are fortunate to have nurses in Northern Ireland whose skills and expertise are in demand across the world. We need to ensure that these same nurses feel supported, recognised and valued for the excellent care they provide to the people of Northern Ireland.
"This is the 23rd year of the RCN Northern Ireland Nurse of the Year Awards, which have highlighted some of the best examples of nursing practice. Despite the challenges, nurses continue to be committed to transforming and improving services and care for patients. Congratulations to all of our winners, who are a credit to the nursing profession."
Finalists
RCN Northern Ireland Nurse of the Year Award
Winner
Emma McKinney
Specialist nurse practitioner
South Eastern Health and Social Care Trust
Runner-up
Colette Johnston
Specialist community public health nurse (school nurse)
Northern Health and Social Care Trust
Commended
Mary O'Kane
Macmillan end of life care facilitator
Northern Health and Social Care Trust
Donna Pike, staff nurse
Amanda Buchanan, staff nurse
Western Health and Social Care Trust
Public Health Award sponsored by the HSC Board and the Public Health Agency
Winner
Michael Rooney
Lifeline service manager
Belfast Health and Social Care Trust
Runner-up
Stephanie Leckey
Community resuscitation lead
Northern Ireland Ambulance Service
Health Care Support Worker Award, sponsored by LV
Winner
Laura Bradley
Senior health care assistant
Northern Health and Social Care Trust
Runner-up
Carolyn Aicken
Health care support worker
Belfast Health and Social Care Trust
Learning Disability Award
Winner
Siobhan Brady, health facilitator
Aoife Mills, community learning disability nurse
South Eastern Health and Social Care Trust
Runner-up
Lorraine Feeney
Ward sister, Western Health and Social Care Trust
Chief Nursing Officer's Award
Winner
Morag Boyd
Ward sister
Northern Health and Social Care Trust
Runner-up
Judy Brown
Home manager
Arches Care Home
Student Award sponsored by The Queen's University of Belfast
Winner
Breeda Henderson
Ulster University
Runner-up
Anne O'Neill
The Queen's University of Belfast
Nursing Research Award sponsored by Ulster University
Winner
Esther Beck
Ulster University
Runner-up
Katrin Lehmann
Ulster University
Learning in Practice Award sponsored by The Open University
Winner
Tracy McGilligan
Practice educator
Western Health and Social Care Trust
Runner-up
Rachel Greer
Clinical educator
Southern Health and Social Care Trust
Inspiring Excellence in Mental Health and Learning Disability Award sponsored by Inspire
Winner
Claire Kerr, deputy sister
Jennifer Jordan, staff nurse
Western Health and Social Care Trust
Runner-up
Nicola Johnston, deputy sister
Fiona McCarry, acting ward sister
Belfast Health and Social Care Trust
Cancer Nurse Award, sponsored by Macmillan Cancer Support
Winner
Margaret Carlin
Macmillan lung cancer nurse specialist
Northern Health and Social Care Trust
Runner-up
Sheena Stothers
Clinical nurse specialist
South Eastern Health and Social Care Trust
Defence Reservist Nurse Award, sponsored by Defence Medical Services
Winner
Sergeant Michael Donaldson
502 (Ulster) Squadron
Leadership Award, sponsored by Roberta Brownlee and Silverdale Care Home
Winner
Lesley Mitchell
Macmillan lead nurse and nursing services manager
Western Health and Social Care Trust
Runner-up
Aaron Ramsey
Ward manager
Northern Health and Social Care Trust
Patient's Choice Award, sponsored by the Patient and Client Council
Winner
Terry McVeigh
Macmillan clinical nurse specialist
Northern Health and Social Care Trust
Runner-up
Donna Pike
Staff nurse
Western Health and Social Care Trust
Outstanding Achievement Award sponsored by NIPEC
Professor Kader Parahoo, Lecturer, Ulster University