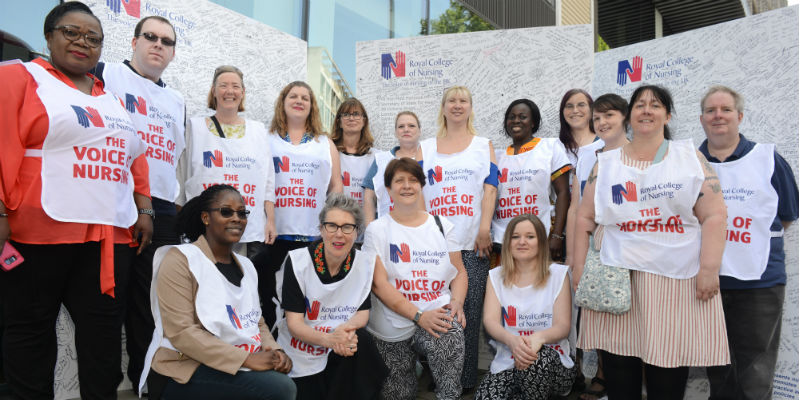 Today members delivered three supersized letters to the Department of Health and Social Care (DHSC) with an urgent message to Health Secretary Matt Hancock.
The letters call on him to ensure patient safety in England by championing a law for safe staffing. They were signed by thousands of members who attended RCN Congress in Liverpool.
Legislation setting out who is responsible for ensuring there are enough nurses with the right skills to keep patients safe already exists in Wales and Scotland. Now members want to see a similar law in England.
RCN England Director Patricia Marquis said: "When we asked delegates at Congress to make their feelings towards the Health Secretary clear, it wasn't just for show.
"The message is endorsed by members across the nation; nursing staff who are starting to grow impatient because their peers in Scotland and Wales are working in conditions that are arguably safer than in England.
"The minister risks exacerbating the almost 40,000 vacancies in England if hardworking nurses look across the border and see a system under which they know they can do better by their patients."
Endoscopy preparation practitioner Rebecca Stevens went to deliver the letters. She said: "Safe staffing saves lives. If we have the right number of staff, we can deliver the care that people need. There's a lack of nursing staff right now and it's difficult to recruit and retain staff. We can't go on like this."
RCN President Anne Marie Rafferty added: "To have members here today shows the level of determination and desperation they feel about this issue. Speaking to nurses about their workplaces, many of the staffing levels are out of date, and activity and acuity is rising.
"Nurses are always trying to play catch up, even in the best possible working scenarios. Matt Hancock did say that he was willing to consider staffing legislation when he took on the Health Secretary role, we'd like to help nudge him to take action on this."
While the Health Secretary wasn't available to receive the letters in person, they were accepted by DHSC staff on his behalf, and the RCN expects a reply in due course.