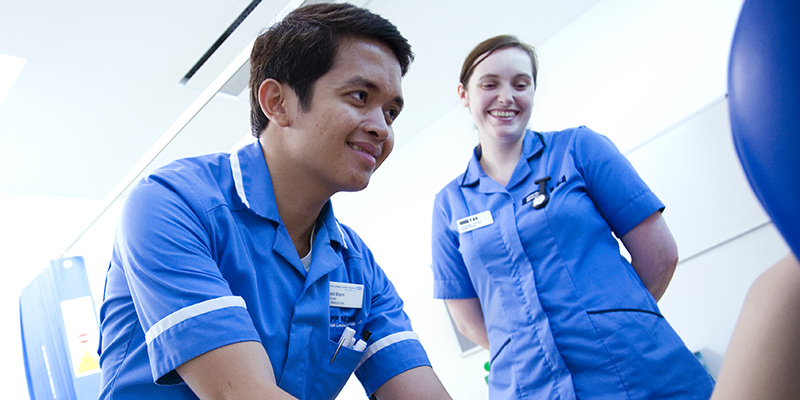 The RCN has today published its response to a Nursing and Midwifery Council (NMC) consultation on its proposed new standards for pre-registration nurse education.
These are the minimum standards nurses of the future will need to meet to be able to practise.
In its response, the RCN welcomed the NMC's view that all nurses, whatever their field of practice, should be able to undertake full assessments of patients, while also calling on the regulator to increase the amount of assessed simulation in the training of nurses to 600 hours, up from 300.
The College also welcomed changes to the current practice-based learning model that propose splitting the role of practice supervisor and practice assessor to address concerns around "failure to fail".
But it also highlighted the need for funding for continuing professional development (CPD) to ensure the current workforce has the skills and knowledge to support learners.
The move to ensuring newly registered nurses are "prescribing ready" was also welcomed, with the RCN saying this supports timely patient treatment, reduced waiting times, continuity of care and an improved patient-nurse relationship, although the College also called for updated NMC standards for medicines management.
The RCN supports the NMC's move towards standardising student nurse education, adding in its response that there is currently "unwarranted variation" in the pre-registration training of nurses in all four fields. The College also called for a UK-wide common practice assessment document to facilitate this.
Dr Anne Corrin, Head of Professional Learning and Development at the RCN, said: "We look forward to working with the NMC to further develop and implement these exciting new standards.
"They have the potential to ensure that nurse education responds to the changing population health needs and ensure that nurses continue to provide high standards of nursing care in the future.
"However, we also note the importance of investing in the current nursing workforce to ensure these new standards can be fully implemented in practice."
The RCN engaged widely with members as part of the consultation, which closed on Tuesday.
More than 600 members participated in 18 workshops across the UK and an online survey received 7,380 responses, which helped to inform the submission.