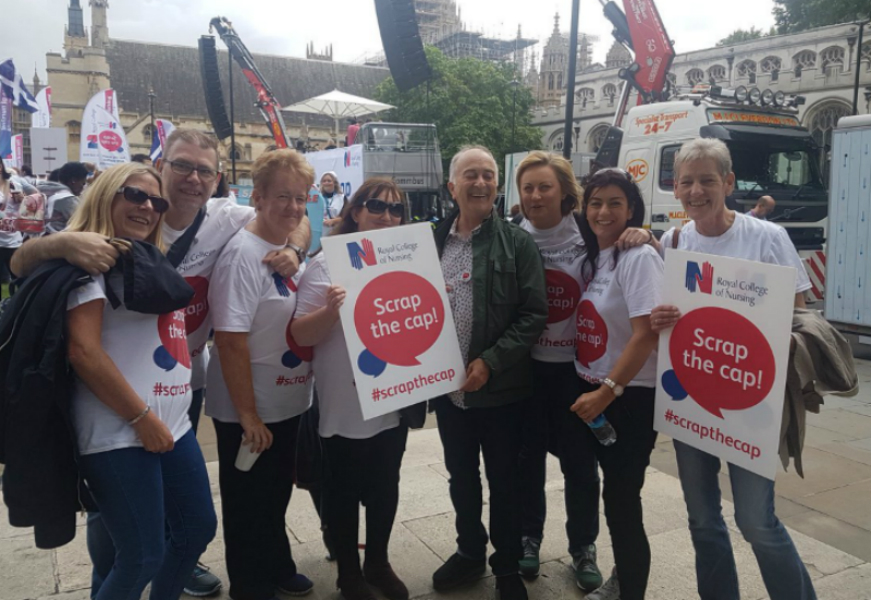 Around 40 RCN members from Northern Ireland participated in the RCN UK Scrap the Cap rally in London today. Alongside colleagues from across the UK, they were calling on the UK Government to abandon the 1% annual cap on public sector pay that has seen the real value of nurses' pay fall by at least 14% since 2010.
RCN Northern Ireland Board Chair Fiona Devlin was one of the speakers at the rally. Fiona highlighted the impact of the cap on nurses in Northern Ireland and on patient care. She also outlined how Northern Ireland nurses are now the lowest paid in the UK. Fiona called for the restoration of the Northern Ireland Executive and Assembly in order to provide the political leadership that is needed to end the crisis in the health and social care service and implement fair pay for Northern Ireland nurses.
A number of Northern Ireland MPs attended the rally, taking the opportunity to meet RCN members and confirm their support for the need to Scrap the Cap. The RCN thanks the MPs for attending and congratulates all our members who have been campaigning so effectively during the last three months against the pay cap and in support of nursing and health care services in Northern Ireland.