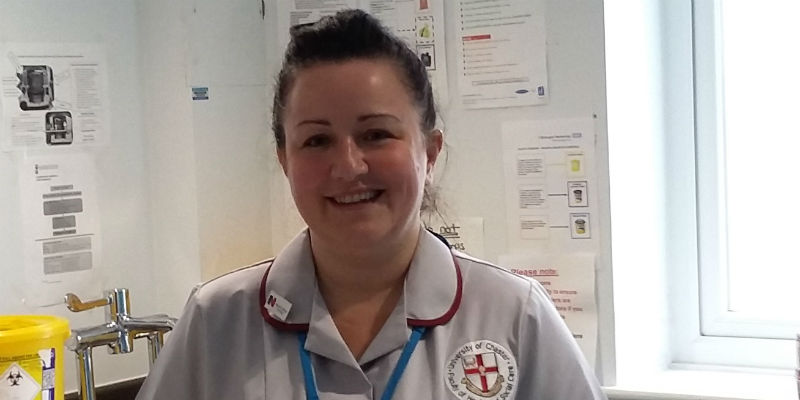 Where do you work as a Trainee Nurse Associate? I am currently based with St Helens Recovery Team. This is a 14 week Hub placement and then I go on to a spoke placement in St Helens Home Treatment Team. Whilst being with the Recovery Team I have had spoke placements in Child and Adolescent Mental Health Services (CAMHS) and lots of other learning opportunities. I have an overall mentor for my two year course. This will help me maintain good, consistent learning outcomes and self reflection on my learning experience.

What made you want to go into nursing? I've worked on an acute mental health ward for the past eight years. I have always had a keen interest in physical health and feel this is something that is missing within specific nursing areas ie mental health, learning disabilities and CAMHS. I'm also keen to learn what other services are available for patients. During the open days I attended a drop-in session and spoke to our head of nursing who explained what the course would entail. The course appealed to me as it will enable me to have so much exposure to all different services and how they interlink and impact on each other. I feel this course will equip me with knowledge and experience to provide holistic care to service users. I would've loved to go into nursing before, however I did not have the required qualifications as a mature student to apply for a degree course.

What qualities do you think a TNA needs? People need to be keen to learn, be open to change, be open-minded, have good communication skills, have attention to detail and willingness to see past the illness and see the person as an individual. Also to act as an advocate for service users to have a good patient experiences.

What do you think is the role of a TNA? I think the role of the trainee nurse associate is to work alongside the full MDT and learn and embrace every learning opportunity. Trainees should reflect on experiences to enable them on qualifying to give good holistic patient care.
What is your favourite/most challenging part of your job? The favourite part of my course is learning new things every day. Meeting service users and their families and learning about their lives and illnesses. The most challenging, yet rewarding thing, is assisting service users in maintaining their illness and preventing hospital admission. This is difficult yet very rewarding when I have assisted people in achieving their maximum potential, yet managing their illness.
Can you describe your working day? In my current placement I am meeting new Service users and liaising with the MDT on management of their current illness. I join in with CPA reviews and assist service users in developing their own patient centred Care Plans. I have also joined in with some of the social inclusion groups and groups relating to their specific illnesses.

Why do you think it's important for TNAs to be RCN members? I think it is important for Trainee Nurse Associates to be RCN registered because it enables members to have access to so many things. The reason that I joined was to use the Library to use for research for my course, I can get advice and support on current nursing issues and keep up to date with changes without worrying that I am not well informed. I can also contact the RCN at any time if I need advice regarding work related issues, I find this very reassuring knowing that I am not alone.

Nurses' Day 2017

Friday 12 May is Nurses' Day. Nursing staff are the superheroes of health care. You're there when needed most, changing lives with your unique set of skills. We want to say thank you! #nurseheroes
Information about how the RCN can help trainee nursing associates.