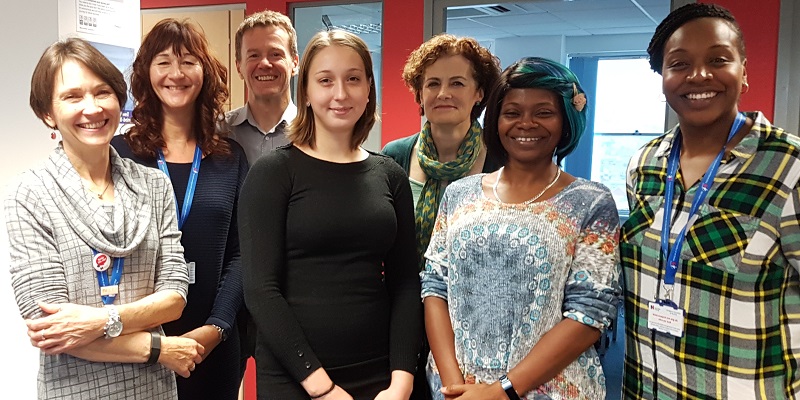 Alenka Senekovic - in the centre of the picture above with RCN staff - is in the second year of a three-year nursing degree course at the University of Maribor in northern Slovenia, whose health faculty is working in partnership with the University of Nottingham, Trinity College Dublin and Lisbon School of Nursing to pilot a European Junior Leadership Academy (EJLA) for nursing and midwifery students.

Students involved in the programme are chosen for their leadership aptitude and potential and have the opportunity to travel to one of the other host countries to observe leadership practice in health care and build their own skills and knowledge.

In the next few months, Nottingham students will be visiting Ireland, Portugal and Slovenia as part of the exchange programme. In June next year all the students involved will gather at the University of Maribor for one week to discuss their experiences.

Alenka said: "There is no similar organisation to the RCN in Slovenia that supports nurses as individuals and also as a professional group, so it's interesting to understand what the RCN does."
Degree training
Unlike in the UK where pre-registration nursing students specialise in one of four fields of nursing – adult, children's, mental health and learning disability – degree training in Slovenia covers all the fields. Students can go on to study for a Master's or Doctor's degree.

Alenka said: "Up to 95% of nursing students in Maribor attended high school for nurses before they started their degree, so they are already classed as nursing assistants.

"I am one of the few who went to a general high school but I feel confident that I am learning what I need to know to practice as a nurse. The internship is an opportunity to observe leadership rather than nursing practice itself."

Aside from studying nursing, Alenka helps out on her family's farm and works part-time in a factory in the automotive industry to help with the costs of living and doing her degree.
'Great pleasure'
Stacy Johnson, an Associate Professor at the University of Nottingham, is the project director. She said: "It is a great pleasure to be working with these three excellent European organisations to develop nursing and midwifery student leaders in an innovative and challenging way.

"The European Junior Leadership Academy has had tremendous support from the RCN. We are thrilled that the RCN is hosting interns as it really adds to the prestige of the programme. In addition, senior RCN leaders are mentoring the students, which raises the aspirations of those involved."