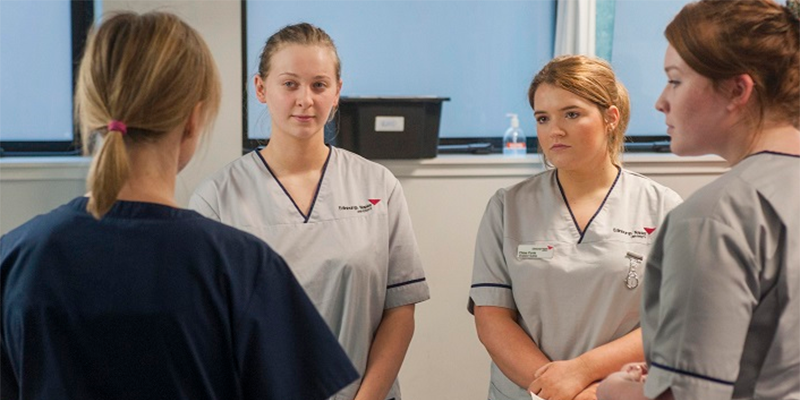 The Scottish Government today announced nursing student intake figures for the academic year 2018/19.
Commenting on the news that the number of student nurses starting their course in the autumn is set to increase by more than 10 per cent, Royal College of Nursing (RCN) Scotland Associate Director Ellen Hudson said:
"Scotland needs more nurses. Over the past year we have seen the highest ever rates of nursing vacancies within our NHS and significantly higher levels of nursing vacancies within the care home sector.
"Nurses are struggling to deal with increased workloads and we know more nurses will be retiring over the coming years. In our recent survey on safe and effective staffing, our members told us that a lack of nursing staff is having an impact on patient care.
"So today's announcement on student places for 2018/19 is a move in the right direction.
"We are pleased that the Scottish Government has listened to our concerns and has recognised that in recent years Scotland has simply not been training enough nurses.
"Nursing is a rewarding profession and we need to ensure that student nurses have the funding, resources and support to be able to complete their studies and enter the workplace. We welcomed the Widening Access Commission's proposal to review student funding and we will work with the Scottish Government to take forward this, and the other recommendations, to encourage people from a diverse range of backgrounds to choose nursing as a career."
Notes
In the 2017 Safe and effective staffing survey half (51 per cent) of the over 3,000 Scottish members who responded told us their last shift was not staffed to the level planned and 53 percent said that care was compromised as a result.
NHS Scotland nursing and midwifery vacancy rate is 4.5% with 2789.2 WTE vacancies [September 2017 ISD Scotland]. The vacancy rate reached 5.2% in June 2017 – the highest recorded.
Scottish Care report Independent Sector Nursing Data 2017 [November 2017] showed a nurse vacancy level of around 31%.
There is to be a 10.8% increase in the 2018/19 intake, bringing the total to 3724 nursing and midwifery places. This means that there will be 364 additional nursing students across Scotland's universities. The breakdown of those is:
246 more adult nursing places (10.6% increase)
51 more mental health nursing places (11.0% increase)
12 more learning disability nursing places (10.9% increase)
20 more children's nursing places (7.5% increase)
35 more midwifery places (18.3% increase).