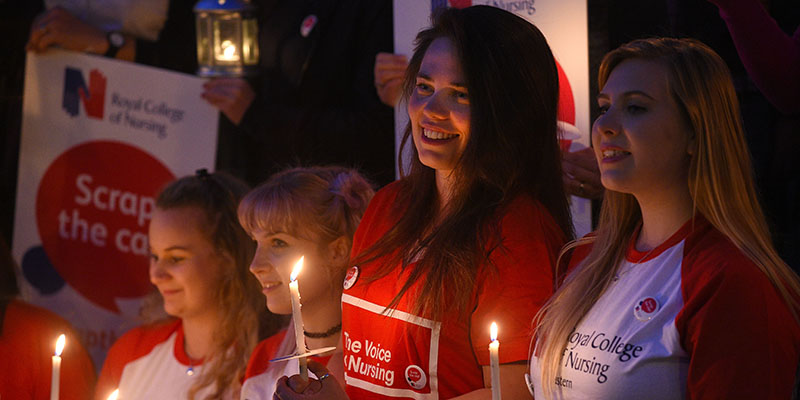 Nurses and health care assistants joined protests in 30 locations across the UK – timed for the June pay day in the NHS – to mark the start of the RCN's Summer of Protest.
Events were held outside the Department of Health in London, the Scottish Parliament in Edinburgh, the NHS England headquarters in Birmingham, hospitals around the country and in other public places. Nurses at public stalls distributed campaign postcards to be sent to MPs.
On Monday evening RCN members and supporters gathered at nurse Edith Cavell's grave at Norwich Cathedral for a candlelit vigil.
The Summer of Protest follows a recent poll of RCN members which found 91% would support a form of industrial action. The College offered the Prime Minister a final chance to remove the current public sector pay cap this summer before a formal legal ballot on action later in the year.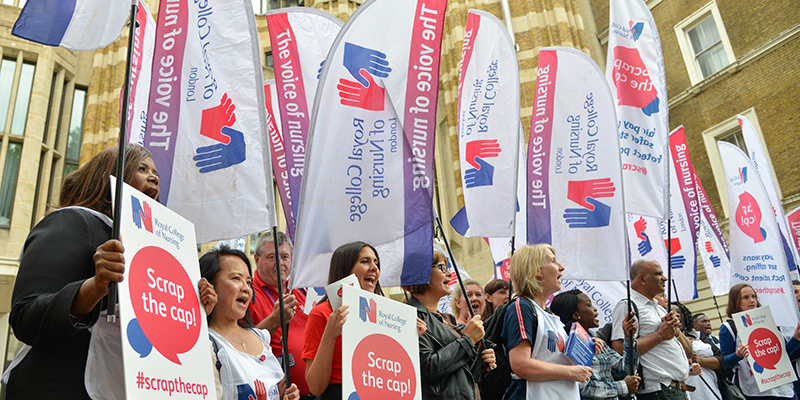 RCN Chief Executive & General Secretary Janet Davies will join frontline members outside Milton Keynes Hospital.
She said: "This summer, nurses will show the Government how angry they feel over its failure to fund the NHS. Protests in dozens of locations will leave Theresa May in little doubt over nurses' fears for the safety of their patients.
"When NHS and care services are short of staff, patients pay a heavy price. Nursing staff are taking an unprecedented stand and saying 'enough is enough'. They know the risks of cut-price health care and will not tolerate it.
"Yet ministers appear determined to drive more staff out with a punitive pay policy and lethal cocktail of pressure on services. The cap stands in the way of filling 40,000 vacant nurse jobs in England alone.
"Theresa May must put patient safety before political dogma and scrap this cap."