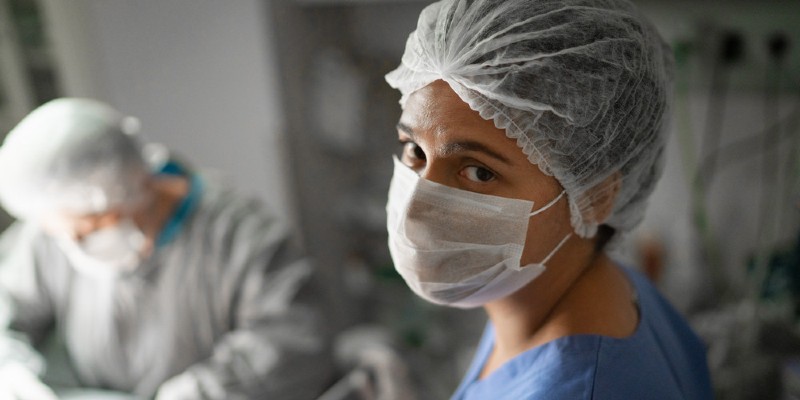 The latest data from the Nursing and Midwifery Council shows more than 3,700 fewer nursing professionals joined the register for the first time between March 2020-21 compared to the same time period the previous year. There were 34,577 first-time joiners to the register in 2020-21, compared to 38,323 in 2019-20.
The figures also reveal an aging nursing workforce, as one in five of those on the register are aged 56 or above and almost one in 10 are over 60.
In a survey of 14,996 nurses and midwives who left the NMC register, the most frequently cited reasons for younger people leaving the profession were because they were leaving the UK, Brexit and poor pay and benefits.
The RCN's Fair Pay For Nursing campaign calls for a fully funded 12.5% pay increase for all nursing staff covered by Agenda for Change terms.
RCN Acting General Secretary & Chief Executive Pat Cullen said: "This report confirms there is trouble on the horizon for people needing health and care services.
"Fewer nurses registered with the NMC this year than last. The register is growing nowhere near enough to meet patient demand. The situation will get worse when one fifth of the register retires in the next few years. This doesn't include those nursing staff planning to leave due to high stress, poor pay and benefits and a negative workplace culture. This is clearly a major risk for the quality and safety of patient care, which is only set to increase in demand.
"Early in their chosen career, nursing staff are feeling forced out by the poor pay levels. Every one of these people should have many years and thousands of patients ahead of them – they're not just a loss now but for 20 years to come.
"The reasons why nursing staff are leaving the profession they love have yet to be addressed. Until they are, our profession, and the patients they care for, stand on the precipice of a crisis.
"Time's running out to address these issues. We have set out standards that must underpin workforce planning across the UK to keep patients safe. We are also calling for clear accountability for delivering the workforce needed for safe and effective care in the upcoming Health and Social Care Bill."
The RCN's Nursing Workforce Standards set out detailed expectations for employers, regulators, and national organisations to support patient safety and enable the UK's nursing workforce to deliver safe and effective care.