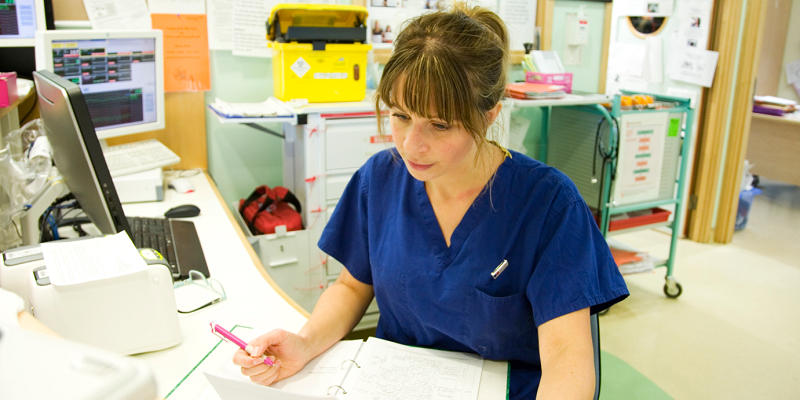 Hospitals and health care providers must examine whether they have enough staff to deliver safe patient care this winter as the RCN discloses the concerns of frontline nursing staff.
More than 30,000 members responded to a survey seeking to gain a snapshot of their experiences on the last shift they worked.
The results, published in a new RCN report, paint a perturbing picture of staff stretched to the limit and compromised patient care.
Over half said there were less nursing staff on shift than planned and that care quality suffered as a result.
"I drove home from work sobbing today, knowing the patients I cared for didn't get a fraction of the care I would consider acceptable," said one respondent.
More than a third said they had to leave elements of patient care undone due to a lack of time, while two-thirds said they worked at least an hour over shift unpaid.
Almost half of respondents said no action was taken when they raised concerns about staffing levels.
It was also reported that:
• patients are no longer afforded enough dignity, even dying alone
• colleagues have burned out and have become sick themselves, unable to work
• many nursing staff question their future and contemplate leaving the profession
• members struggle to give their families enough support after shifts that can exceed 12 hours.
"When this many professionals blow the whistle, they cannot be overlooked," said Janet Davies, RCN Chief Executive.
"The nursing shortage is biting hard and needs the attention of ministers. This warning comes from the very people they cannot afford to lose."
In addition to immediate reviews in each care setting, the RCN is calling for new legislation across the UK that guarantees safe and effective nurse staffing.
It would give clear accountability and responsibility for workforce strategy, policy and planning and must lie at ministerial level.
The College repeated its calls for increased funding for health and care services to meet patient demand.
It plans to launch a safe staffing campaign next May and is inviting members to shape this work.