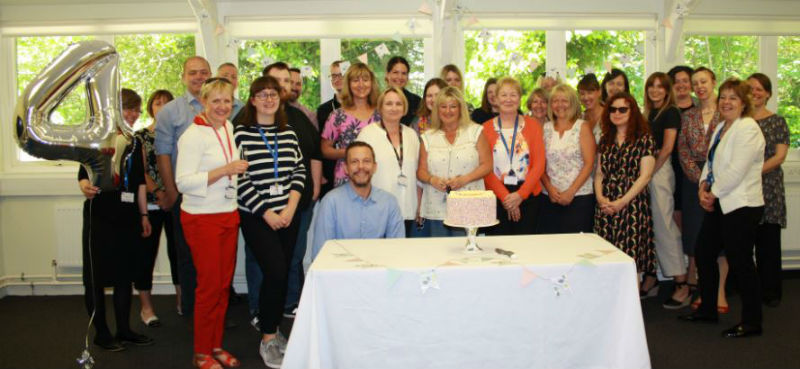 The Royal College of Nursing is celebrating being one of the top 5 best companies to work for in Scotland.
RCN Scotland appears at number 4 on the list of 50 companies with the highest Regional Best Companies Index (RBCI) scores in 2018. The company, which employs around 50 people with offices in Edinburgh and Glasgow, is a trade union and professional organisation for nursing staff.
Commenting, Theresa Fyffe, RCN Scotland Director, said:
"It's not often that coming fourth is worth celebrating, but this really is an amazing result that we need to shout about.
"Our staff are our greatest asset in supporting tens of thousands of nurses, health care support workers and nursing students across Scotland. We know what an invaluable job our nursing staff do, often in very difficult circumstances both at work and at home. It's really important that they are able to keep on providing high quality care to the public. RCN staff help them to do that every single day of every year.
"The result is a reflection of the hard work staff put in year in, year out, and it is their enthusiasm and commitment that makes the RCN such a great place to work."
Notes
The Royal College of Nursing (RCN) is the world's largest professional organisation and trade union for nursing staff, with members in the NHS, independent and voluntary sectors. RCN Scotland promotes patient and nursing interests by campaigning on issues that affect our members, shaping national health policies, representing members on practice and employment issues and providing members with learning and development opportunities. With around 40,000 members in Scotland, we are the voice of nursing.
The list of the Best Companies to Work For in Scotland represents the 50 organisations with the highest Regional Best Companies Index (RBCI) scores. Employees are asked to score 70 questions on a 7 point scale from 'Strongly Disagree' to 'Strongly Agree'. Organisations require 30 or more survey responses in a region to be eligible.